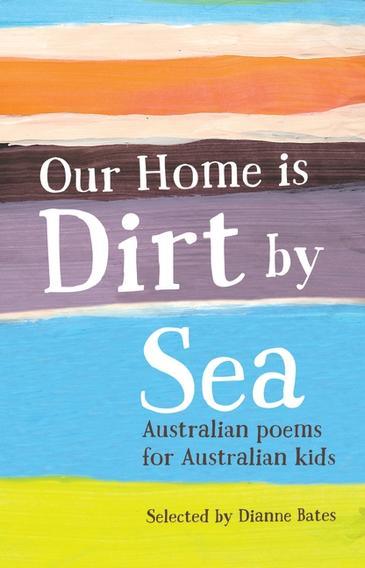 Dianne Bates (selected by), Our Home is Dirt By Sea: Australian poems for Australian kids, Walker Books Australia,  1 May 2016,  128pp., $16.99 (pbk),  ISBN: 9781925081190 
An anthology of poems for children, Our Home is Dirt By Sea, is the inspiration of author and poetry lover Dianne Bates. Over a decade in the making this lovely collection of poems – some published for the first time, other poems by household names such as C.J. Dennis, Max Fatchen and Elizabeth Honey – includes the work of over thirty Australian poets.
The poems have been grouped thematically under a variety of headings such as 'families,' 'animals,' 'sport' and 'school' and range from the poignant, such as Robert Adamson's My Tenth Birthday; a montage of wonderful images of a picnic celebration by a river and fond times shared with his Dad, to the mad capped The Lady, by Ann Coleridge. Told from a child's perspective we are introduced to a strange lady who enters the house every day at 4.30 all dressed up, only to materialize sometime later transformed with 'hairy chin' and 'saggy bum' as 'that's no lady, that's my mum.' Perhaps however you would prefer Doug MacLeod's For an inglish Teecher, in which a parent writes a fanciful letter to his child's 'inglish teecher' providing reasons for non attendance in class ranging from 'his nose playing bagpipe music when he blows it' or 'growing an extra leg over 'nite'' to 'his head falling off because of 'an unpleasant coff.'' Why all the excuses you may ask? Have a read. You may be surprised.
Funny, irreverent, happy, sad and poignant this collection of diverse poems would be a great addition to a school or home library.
Recommended. 8+
Classroom Ideas can be found on the Walker Books website.
Reviewed by Mem Capp