Sean Williams, Her Perilous Mansion, Allen and Unwin, April 2020, 336 pp., RRP $16.99 (pbk), ISBN 9781760877361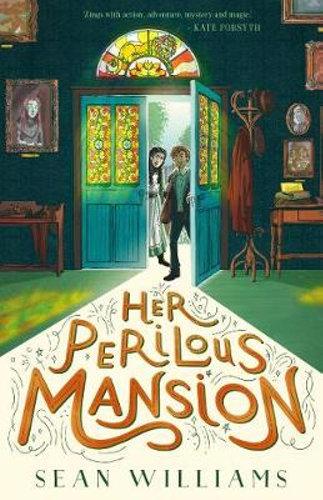 The whimsical accents of green foil on the cover of Her Perilous Mansion allude to the ensuring mystery and magic that lie within the pages of Sean William's suspense-filled middle grade novel.
Almanac, an instinctively helpful orphan, is eager to impress in his new role as an apprentice second footman at an imposing and disturbingly empty manor. Etta, an impatient and ambitious twelfth child in her family, is also there at the manor to start a new role as a chambermaid. The manor is 'so preposterously grand' that it feels like 'it was almost too much' for the two new employees who have arrived with high hopes from two vastly different worlds. Etta is convinced that there is magic to be found in a hidden library within the walls, whereas Almanac hurries to 'change into his new life' far away from the orphanage.
But as soon as William's two protagonists change into their new manor uniforms things start to go awry. Almanac's old clothing and his precious satchel go missing. The manor's name seems to keep changing and later, the kids face ghosts that emerge in the walls. Etta questions the manor's eccentric inhabitants. Is someone 'playing a game' on the pair? Or is magic to blame for the series of mysteries that William's builds chapter after chapter? But even once Almanac and Etta's employers are found, they are elusive and hold no answers. Etta complains, Mr Packer is engaged, Lord Nigel is busy, and Lady Simone is having a spasm! It is up to the duo themselves to not only perform at their new jobs but to also solve the mystery of the puzzle that has been set for them at Her Perilous Mansion.
Williams is a master storyteller and fantasy world builder, and Her Perilous Mansion delivers tension, mystery, and magic in spades. The story is packed with clues for readers to decode in the quest to solve the literary puzzle that Williams has built, and the last reveal will bewilder all! It also details fascinating insights into how magic, 'the cousin of the written word', is executed through language, as indeed 'no spell is complete that isn't a poem' and that with 'careless words sorcerers, even young ones…could do great harm'. This magical literary subplot would provide for an intriguing lesson plan in upper primary school classrooms!
Whilst Her Perilous Mansion is targeted at the readership of eight to twelve, this fast-paced read will also suit older readers who have a soft spot for magic and love to escape to peculiar places. A highly recommended 2021 Children's Book Council Notable Book, nominated in the Younger Readers of the Year Category.
By Lana Spasevski