Morris Gleitzman, Help Around the House, Penguin Books Australia, September 2018, 208 pp., RRP $16.99 (pbk), ISBN 9780143793236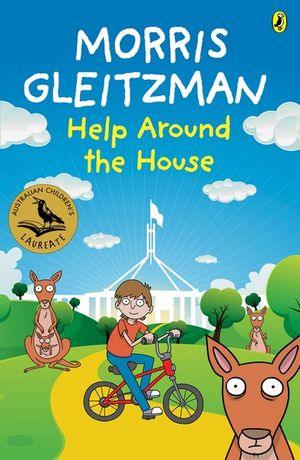 Ludo is a kind kid, determined to be help others, so it's ironic that he's thwarted by the very organisation established to do the same – the Australian Government. When his dad is elected to Federal Parliament and his family moves to Canberra, Ludo is excited about helping his dad help others. But things don't go as planned. Ludo's dad is pulled astray by cynical hacks more concerned with keeping their jobs – and all their perks – past the next election. And Ludo is gobsmacked by the generosity of those perks. He can't see why politicians need chauffeur-driven cars, business class air flights – and the rest of it – to help people.
This story gently pokes fun at politics, ironic policies and organisations that have lost sight of why they were established in the first place, but, coming from the eyes of a child, it is eye-opening rather than disrespectful. It's sure to prompt loads of questions from curious young readers about the way government works and why it sometimes gets things so horribly wrong. This book could also lead to discussions about homelessness, bullying, freedom of speech, death, grieving, family and friendship. While it touches on a lot of issues, it's not heavy or pushy. There's mystery and late night adventures on a bicycle too.
I really enjoyed this story. Ludo is likable, brave and steadfast in his beliefs and he reminds us all to focus on what's really important – family, honesty and doing what is right.
Morris Gleitzman is the Australian Children's Laureate for 2018 and 2019.
Reviewed by Carissa Mason