Felicity Banks, Heart of Brass (The Antipodean Queen #1), Odyssey Books,  29 July 2016,  306pp.,  $23.95 (pbk), ISBN 9781922200587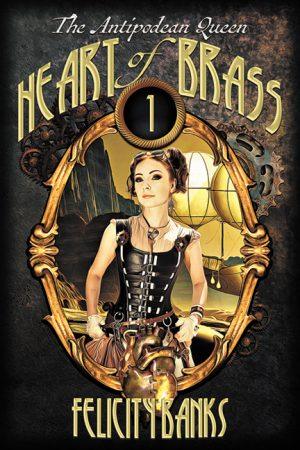 Heart of Brass is the first published novel from Canberra author Felicity Banks. It's in the steampunk and historical fiction genres, is set in the mid-1800s, and is the story of Emmeline Muchamore, gentleman's daughter who must save the family finances by marrying well. Unfortunately Emmeline has a secret – while still a child, her father replaced her heart with a steam-powered brass heart to advance science and medical knowledge. Unfortunately it was discovered by the authorities and her father was tried and executed for this crime. The Muchamore family hushed it up but now they are running out of funds. In her attempts to attract a wealthy husband disaster strikes and Emmeline is arrested and transported to Victoria.
This is a surprisingly good first novel – Emmeline undergoes quite the transformation from wellborn gentlewoman to convict to woman on the run, and her character development is good. This book is the first in the Antipodean Queen series; the alternate reality world created by Banks is interesting and will not only appeal to fans of fantasy and steampunk, but will leave them wanting to know more. Not all questions are answered in this first novel. Although the writing and pacing could be tighter in places, this is a promising start from a new author and we should expect good things from future titles. Recommended for steampunk fans and public libraries.
Reviewed by Rebecca Kemble