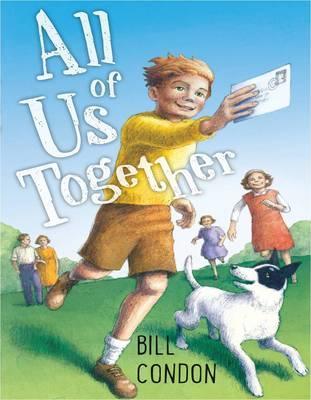 Bill Condon,  All of Us Together,  About Kids Books,  30 October 2016,  160pp.,  $14.99 (pbk),  ISBN: 9780994642806
When Daniel's father is forced to leave a small, rural Australian town to search for work, the family is determined to stand together in the face of hard times. But when the Great Depression of the 1930s takes its toll and tragedy strikes, Daniel tries to save his family in whatever way he can. Thanks to a strong-willed mother, a supportive sister and a loving family, Daniel navigates right and wrong even in the face of trying times. Ultimately, the family lives by the words of their mother: 'We can't run away. As long as we all stand together, we can get through anything'.
Award-winning author Bill Condon brings young readers a fascinating account of one family's struggle during a momentous period in Australian history. With compelling characters and a suspenseful storyline, Condon draws us directly into the life of this resourceful and resilient twelve-year-old boy. We immediately feel the urgency of the situation and both the optimism and sadness that these characters experience. At once heartbreaking and hopeful, this beautiful work of junior fiction is a compelling read.
I particularly liked seeing the balance in the characters. Daniel's mother, Margaret, is incredibly strong, but occasionally breaks down into tears and falters, worried about how to handle an embarrassing situation. Daniel is a "good boy" but is pushed to question what is right and wrong when faced with the opportunity to help his family. These characters are authentic and facing extremely difficult decisions which don't always have obvious solutions.
Both a book about a family and historical fiction, All of Us Together is a heart-warming story, full of humour, challenges and love. It brings young readers into a time period that they have likely only experienced through history class. This gorgeously written story centres around the resilience of Australians and the strength of family that is sure to captivate readers aged 8 – 12.
Reviewed by Stephanie Ward