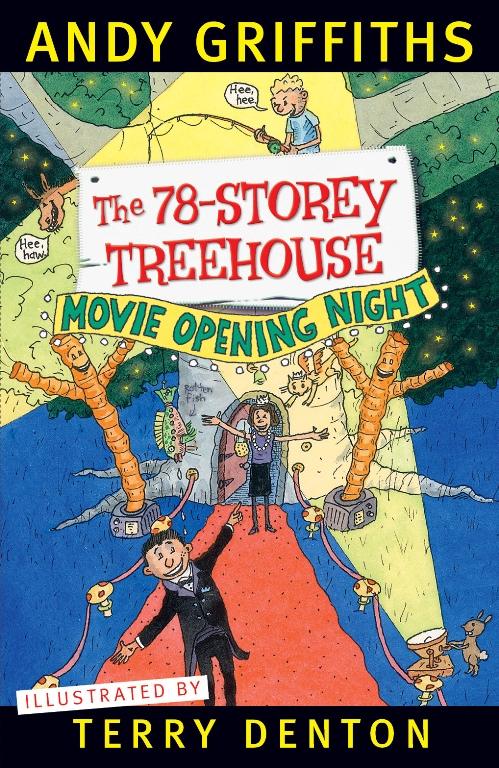 Andy Griffiths (text),  Terry Denton (illus.),  The 78 Storey Treehouse,  Pan Macmillan Australia,  9 August 2016,  384pp.,  $14.99 (pbk),  ISBN 9781743535004
Here is the latest offering from Andy Griffiths and Terry Denton – another thirteen storeys have been added to the treehouse, making it the sixth Treehouse book. In this adventure, a movie is being made of Terry and Andy's books, and a big shot Hollywood director has been brought in to run the show. Unfortunately for Andy, it seems the movie doesn't need a narrator, or even Andy to play Andy! Instead he is replaced by a monkey, or more accurately, Mel Gibbon. Andy tries to take his mind off the rejection, but everything he does backfires. Will he ever be a big shot movie star? Will he and Terry ever be friends again?
Like all of Griffiths' and Denton's book, this one has instant child appeal. The jokes, the detailed drawings, the hidden clues and the crazy situations are going to appeal to primary school ages. Kids will be able to relate to the situation Andy and Terry are in – a fight between friends where no one is really at fault but everyone has behaved badly. How to make up after that? Like kids do of course. Recommended for primary school and public libraries.
Reviewed by Rebecca Kemble