Wendy Haynes (text) and Brett Curzon (illustrations), Hayden's Bedtime, Imprint Publishing, October 2019, 32 pp., RRP $22.99 (hbk), ISBN 9780987643506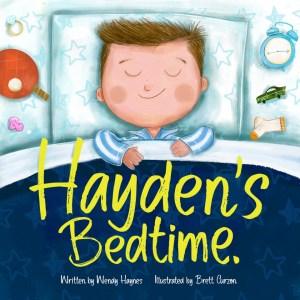 This picture booktakes a light-hearted and humorous approach to dealing with children's bedtime fears, as it describesa happy, playful, re-assuring bedtime routine.
Hayden's attempts to resist bedtime are challenged by his Dadwho recites aplayful bedtime rhyme "it's too late, too late …" [for daytime activities]. And then, when Hayden pleas for his Dad to check what is lurking behind or in his bedroom furniture, Hayden is reassured as Dad reveals that, in actual fact, there are everyday objects hidden there –"a piece of gum, a half-eaten plum" and many more.
Bold, colourful, amusing cartoon style images add to the playful and cheerful tone. The images also develop the narrative by depicting facial expressions, the warm relationship between parent and child and creating the bedroom setting. I also love how the cosiness of bedtime is evoked with the blue and white striped endpapers and the front cover image of Hayden sleeping soundly.
I look forward to reading this picture book at library story-time.I know that the humour and the jaunty rhythm of sections of the text will appeal to the pre-schoolers. The story's predictive pattern also lends itself well to reading aloud.
This book will be especially useful for families who struggle with their kids' bedtime fears. But it is also a lovely story for any child aged 3-6, including beginner readers who will find the brevity of the text and its repeated pattern, accessible for independent or shared reading.