Clare Hallifax (text) and Simon O'Carrigan , Never Forget, Scholastic Australia, March 2020, 32 pp., RRP $19.99 (hbk), ISBN 99781743835050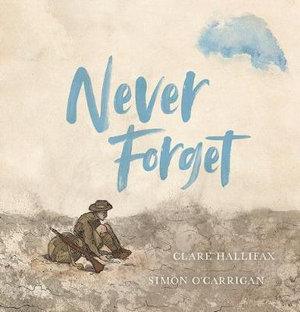 Never Forget is a picture book for older children which focuses on the experience of ANZACs during the Great War of 1914-1918 (WWI). More than a picture book, this is a work of art that, with great sensitivity and empathy, conveys the hopes and fears of actual soldiers who recorded their experience in diaries provided them by the Australian War Records office. The gentle lyrical text and the pen-and-ink illustrations work together to depict the horror and futility of war in a way that is both personal and gentle. The illustrator's notes provide a detailed background of the research and thought that went into the faces and places that he portrayed.
Never Forget is a beautiful, rich and educational book for older children to explore as we prepare to remember the ANZACs in an unprecedented setting, reminding us that we should never forget.
Reviewed by Pamela Ueckerman