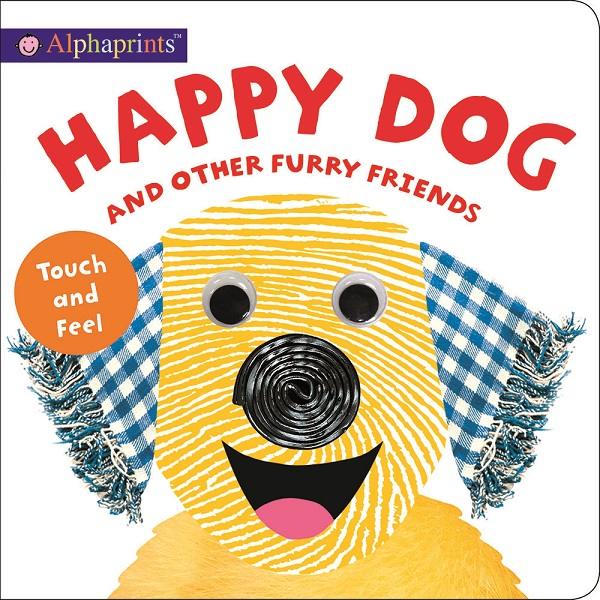 Roger Priddy, Happy Dog and Other Furry Friends (Alphaprints), Pan Macmillan, 27 Dec 2017, 14pp.,  $12.99 (hbk – board book),  ISBN: 9781783415694
Roger Priddy, Quirky Bird and Other Feathered Friends (Alphaprints), Pan Macmillan, 27 Dec 2017, 14pp.,  $12.99 (hbk – board book),  ISBN: 9781783415779
Aimed at younger children, these books are sure to delight with their use of bright colours, sensory textures and funny rhyme.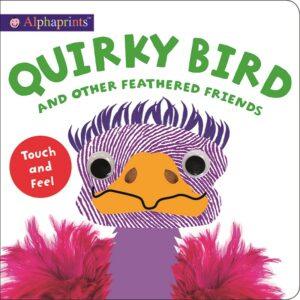 These touch and feel books invitingly engage the reader with the creative use of the materials incorporated into the illustrations. A shell, banana or trumpet for a beak; leaves for wings, and flowers for eyes. Or even a body made from a loaf of bread or a potato, pompoms and noodles for fur, and delicious donuts for eyes. These hidden aspects provide a fun search and find element.
The last 2 pages of each of these books features all of the animals from the story; with their names and supporting description. Emu is 'loud and curious' while Pelican is 'noisy and greedy'. Pug is 'bold and funny' while Bulldog is 'gentle and protective'.
A fun, colourful and inviting board book; which hasn't lost its appeal in our house yet. It's been used as a story, search and find, guessing game and more – the opportunities are endless!
Reviewed by Raquel Mayman