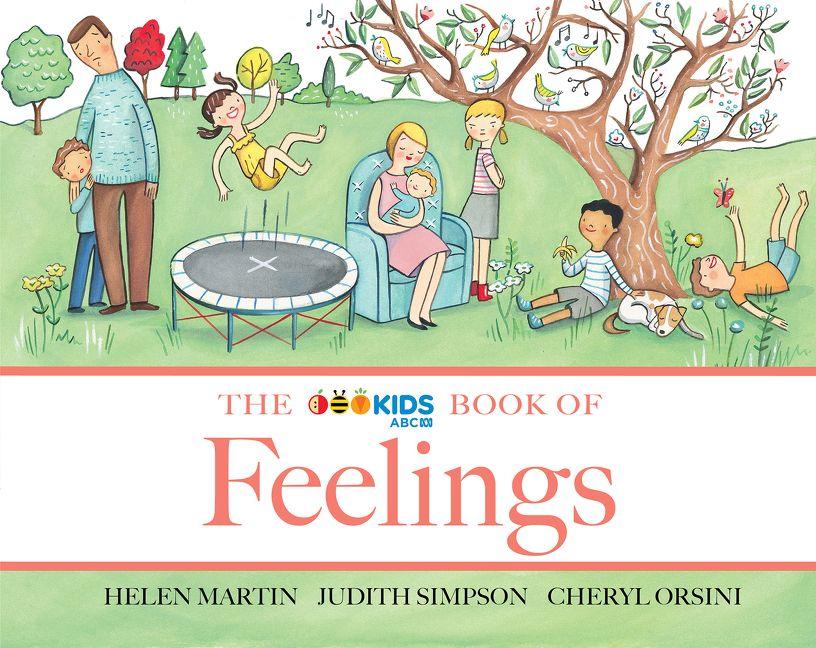 Helen Martin and Judith Simpson (text),  Cheryl Orsini (illus.), The ABC Book of Feelings, ABC Books/HarperCollins Australia, 20 Nov 2017,  32pp.,  $24.99 (hbk),  ISBN: 9780733338298
In my experience as a kindergarten teacher I have used stories as a way of engaging children in discussion and reflection. I have also created many varied and individual social stories to support children in their development and learning. The ABC Book of Feelings reminds me of a social story because it offers factual information, relative examples and opportunities for reflection.
Many feelings are explored through words and illustrations; which are appropriate for the reader as they represent elements which children can relate to in their own lives; such as feeling frightened in bed, determined to do up buttons, or angry when involved in a disagreement.
Just as important as recognising and identifying feelings is the knowledge of strategies and tools to assist in regulating our feelings. I appreciate the suggestion in this book to 'use all your senses to help you feel calm and peaceful', as this reinforces the importance of mindfulness and being in tune with yourself, your body and thoughts.
The illustration of a rainy day with people going about their daily activity invites the reader to consider how the different people are feeling as the rain falls. There are a mix of feelings present on the page – a lady feeling angry when getting splashed by a car, children joyfully jumping in puddles, and a farmer feeling thankful. This demonstrates that while all experience the day's rain, people can and do feel differently about it.
Another important message from the story is that feelings come and go and don't last forever. Feelings are influenced by where we are, who we're with and what we're doing, but feelings can also be impacted by things like hunger and sleep.
Encouraging discussion and reflection of feelings empowers children to recognise and be responsible for how they feel, and how they can manage or express their feelings in acceptable ways. This book is a great resource to support the development of communication and expression.
Reviewed by Raquel Mayman