Victoria Carless, Gus and the Starlight, HarperCollins Children's Books, May 2022, 320 pp., RRP $16.99 (pbk), ISBN 9781460760642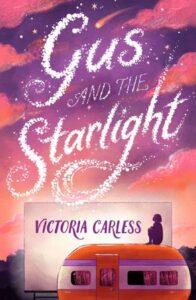 Gus and the Starlight is a heart-warming middle grade novel that follows Gus and her family as they go on the run to escape her mother's current (now ex) boyfriend (Troy), and in a way, the consequences of her mother's gift – the same gift that runs in the females of their family: her mother can see, and talk to ghosts.
With all that behind them, that her mother would choose to take over managing a drive-in and its café (spoiler alert: her mother can't cook) is a surprise to Gus. But, that doesn't mean she doesn't fall in love with the space, and her role as head projectionist – aided by a ghost she sees.
Gus and the Starlight straddles a delicate line between ghost story and family story, of growing up and finding out just where you belong, even if everyone else might call you weird. Gus is a determined young woman, too used to the life her mother's abilities and choices have created for her and her siblings. It's evident in the almost resigned tone of her voice while they are on the run, and the lists she makes to distract herself from the fact that they are trying to escape the scary Troy.
Family is a running theme in this book, and through secondary characters we see different versions of what family can mean. This allows young readers to understand that the picture-perfect family can be just that – a picture only. Families comes in all shapes and sizes, and the love they share is what holds them together.
I adored the way her mother works so hard to make a home for her children at the drive in, and how the siblings band together to help her. It's clear that even though her choices have never been the best, she loves her children.
Gus and the Starlight is an unexpected gem that will draw in your young readers and keep them engrossed to the very last page.
Reviewed by Verushka Byrow