Meredith Costain, The PM's Daughter, Penguin Random House Australia, March 2022, 256 pp., RRP $16.99 (pbk), ISBN 9781761046704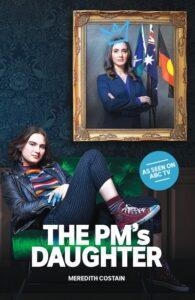 Having a voice is one thing, but you've got to be careful how you use it. And if you want to achieve change, you have to work together with people.
The PM's Daughter is a novelisation of the popular ABC series of the same name. It has a strong adolescent voice in narration and deals with themes that are both relevant and timely in contemporary Australia.
Cat Parkes Perez is the daughter of the newly elected Australian Prime Minister. She has been forced to leave her home in Perth to move into The Lodge, the Prime Ministerial residence in Canberra. If leaving her friends and school is not bad enough, Cat now has to contend with Family Liaison Officers, Security Personnel and chauffeurs in her everyday life, not to mention having her outfits analysed for appropriateness and being banned from joining activist group, Action Uprising. This leaves Cat feeling dismissed, constrained, and angry.
When embarrassing threats are made against Cat's Mum and Action Uprising are blamed, Cat is determined to clear their name and save her Mum's reputation. She rallies her new friends to support the cause, but nothing goes to plan and Cat lets her friends, her Mum and herself down in the process.
Cat is at first portrayed as an idealistic teenager whose internal dialogue reveals a self-absorbed character. She condescendingly believes her Mum cannot and will not see from her perspective and has a great deal of difficulty empathising with her Mum and the work she does. Through Cat, the themes of rebellion and power as a corrupting force are delved into. Her struggle to fight conformity in the confines of The Lodge and the pressures of image keeping for her mother's sake, see Cat make many mistakes that she regrets. Actively working in the school election process, campaigning and managing a variety of stakeholders with differing interests, compels Cat to understand the complexities of Prime Ministerialship. As such and in the true nature of character development, Cat learns to grow and change, acknowledging that 'her voice' must be used in collaboration with others not always in conflict with them and it is the responsibility of everyone to bring about change.
One powerful theme in this novelisation is the role of women in politics and the additional pressures they must manage due to societal expectations and media representation. At one point, Cat is told that if she wears a shirt with a political slogan on it, the media will run a story "about a female Prime Minister letting her family problems interfere with her job, which is something they would never write about a man." It is clear that the writers of the TV series had this very theme in mind by making the Prime Minister a single Latino mother. It raises the question about diversity in politics and government as representative of the people.
The story itself provides an insight into the life of politicians and their families in Australia. The fine lines walked by politicians and the level of criticism they encounter are no surprise to any readership, but the price their family pays for their role adds another level of complexity.
This novelisation shows that the cogs in the Australian political machine are many and their newest member, social media is given the limelight. Along with the paparazzi, campaign managers, activists, business personnel, opposing ministers, the citizens and many other stakeholders, The PM's Daughter is a perfect springboard for discussion about government and Australian politics. Incorporating an interesting, relatable plotline with character development and timely issues such as climate change and voting age makes a dry subject area far more palatable to an adolescent audience.
Coupled with a ready-made TV series, which is referred to in an 8-page collection of images from the show, this story is well suited to a novel study for students age 12+ years or anyone who is interested in the life of the powerful and famous.
Reviewed by Katie Mineeff