Jenny Hessell (text) and Trevor Pye (illustrator), Grandma McGarvey Joins the Scrum, Scholastic Australia, August 2019, 32 pp., RRP $18.99 (pbk) ISBN: 9781775436034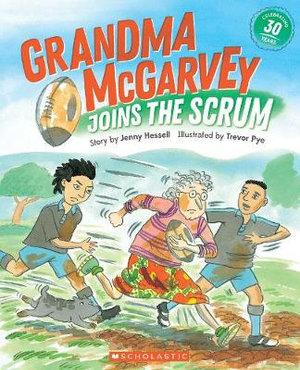 Celebrating thirty years of Grandma McGarvey's zany adventures, author Jenny Hessell and illustrator Trevor Pye team up once again for this rhyming, footy inspired story.
A RUGBY MATCH! Before she had time to think what to do, the ball came hurtling out of the blue.
Then somebody tackled her hard, and thud! Grandma McGarvey flew into the mud.
When Grandma McGarvey's car breaks down, she heads to the local footy ground for help and before she knows it, this unflappable granny is part of the scrum. Never one to be down and out, Grandma McGarvey wins everyone's admiration for her drive and fortitude, transforming a terrifying mishap into an action-packed adventure with fantastic, surprise results.
In no time at all the game is won and the home team are rejoicing, all thanks to Grandma McGarvey's unexpected ball skills and her incredible sliding dive across the try line. As the stunned players and gaping referee look out from the pages, young readers are sure to revel in the pure joy and triumph of their unlikely heroine.
Grandma McGarvey Joins the Scrum seems to leap off the page thanks to Jenny Hessell's hilarious rhyme and faultless rhythm. Trevor Pye's cartoon illustrations vibrate with a colourful, fluid energy so perfectly matched to the pacey vigor of the text.
Fans of Grandma McGarvey and Scholastic's Grandpa series will adore this title, as will any young readers (3-7 years) keen on sporting action or fun, rollicking rhymes.
Grandma McGarvey performing the Haka was a real highlight for me and the title as a whole was a pleasure to read aloud. A fantastic story to share with young readers and one that could easily inspire some sporting recounts or footy season poetry.
Reviewed by Lisa Hoad Mercer