Elaine Bickell (text) and Raymond McGrath (Illustrator), The Little Ghost Who Lost Her Boo, Scholastic Australia, August 2019, 32 pp., RRP $18.99 (pbk) ISBN 9781775435754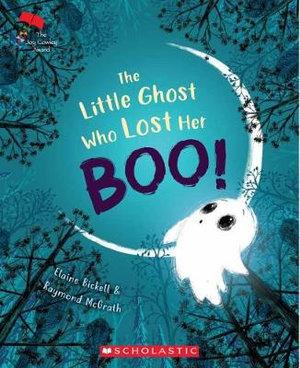 Winner of the 2018 Joy Cowley Award, The Little Ghost Who Lost Her Boo is an enchanting picture book with an irresistible combination of skillful rhyme, stunning illustration and fun animal sounds.
Little Ghost has lost her boo and has no idea where to find it, but instead of moping about the dark forest hoping for its return, this determined spirit heads out into the night to look for it.
I've lost my boo! I've lost my boo!
Where has it gone? What will I do?
During her night-time hunt, Little Ghost meets her friends: Owl, Pigeon, Rooster, and Cow. Despite kind suggestions from all these friends, who each offer to share their individual noises with her, Little Ghost remains determined to find her very own, scary boo.
As the search continues, Little Ghost never gives up on her noisy adventure and in the end, young readers will be thrilled to discover that they are the ones to help her find her boo.
Accompanying this joyfully rhyming tale are Raymond McGrath's breathtaking full-page illustrations. He uses a moody retro palette and bold light/dark contrasts to create the book's glorious forest surroundings. Little Ghost herself is a simple pure white with the kind of large doleful eyes young readers instantly fall in love with. Little Ghost's friends are painted in painstaking detail: beautifully coloured with exquisite patterns reminiscent of the African Tingatinga style and giving each animal an air of important individuality.
As the story draws to a close McGrath's intricate silhouettes are bathed in a burnished rose light giving the reader the unmistakable sense of a sunrise and the dramatic ending to follow.
My young readers adored this picture book and with its evocative artwork, fun rhymes and important themes around perseverance, individuality and self-belief, this would be a fantastic title to share at home or in an early primary setting.
Reviewed by Lisa Hoad Mercer