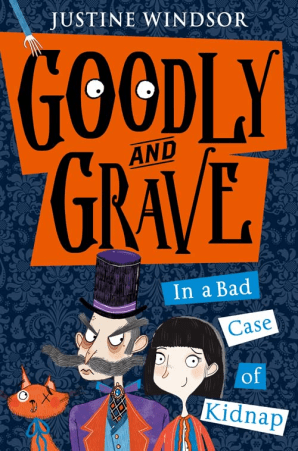 Justine Windsor (text),  Becka Moor (illus.), Goodly and Grave In a Bad Case of Kidnap (Goodly and Grave #1),  HarperCollins Australia,  9 March 2017, 320pp.,  $14.99 (pbk),  ISBN: 9780008183530
Lucy Goodly is a dutiful daughter, a great gambler and no slouch when it comes to solving mysteries. But when she meets Lord Grave who beats her at her own game, Lucy knows she's in trouble. And trouble, in this magical tale, is anything but predictable.
Goodly and Grave In a Bad Case of Kidnap is a middle grade mystery with a cast of kooky characters that are all part of an enchanted world. From jacks that jump off of playing cards, to moving statues and a compound full of wild animals that act like spies, Lucy finds herself wrapped up in the mysterious world of Lord Grave. And she's not the only one. Children have been disappearing for ages and Grave might just be the reason. But things get even more confusing when one of the children disappears from Lord Grave's compound. Who should she trust when nothing is as it seems and everyone — or rather everything — seems determined to keep Lucy from finding out the truth?
Goodly and Grave In a Bad Case of Kidnap pulled me right in with a wonderful opening scene and then kept me guessing through all 320 pages. Lucy is a lovable heroine and her goodness shines through, even though some of the book's themes are quite depressing (child kidnapping, the loss of Lord Graves family, Lucy's unreliable and selfish parents). Many other imaginative characters bring their quirkiness to add humor to an otherwise dark storyline creating a measured balance. I loved the use of illustrated newspaper clippings scattered throughout the book giving hints and backstory of the missing children. The magical world created by Justine Windsor and multiple plot twists keep the story lively and intriguing so readers will never guess what's coming next.
Aimed at middle graders aged 9 – 12, Goodly and Grave In a Bad Case of Kidnap would appeal to readers that enjoy mystery and magic. It's the first book in a planned trilogy with the second book, Goodly and Grave in a Deadly Case of Murder, due out in July 2017.
Reviewed by Stephanie Ward