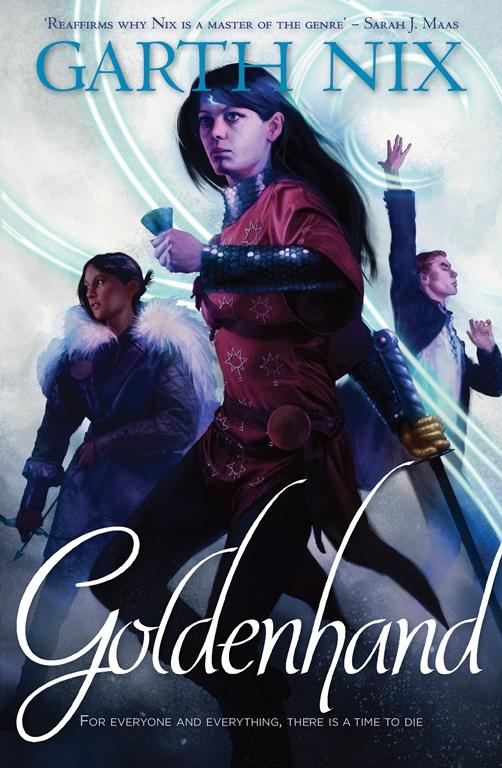 Garth Nix, Goldenhand (Old Kingdom #5),  Allen & Unwin,  Oct 2016,  400pp.,  $24.99 (pbk),  ISBN: 9781741758634 
Goldenhand is the fifth instalment in the Old Kingdom series. It works well as a stand- alone novel, although, if you have read any of the others in the series, Sabriel, Lirael, Abhorsen, and Clariel, it does improve your enjoyment in that several familiar characters appear. This novel continues the story of Lirael and Nicholas Sayre, presumably started in Lirael, which I haven't read. Lirael is now the Abhorsen in waiting, appointed to succeed Sabriel. The Abhorsen is a strong necromancer and mage, the enemy of the dead who may cross to the living world. Lirael is also a Remembrancer, who can see deep into the past. She has lost her right hand somehow, presumably in the earlier novel, and it has been replaced by a golden artificial one infused with magic.
When Nicholas is found unconscious with dangerous free magic flowing through him she goes to rescue him. She longs to save him but doesn't know what the free magic may mean. She is also troubled by her strong developing feelings for him as she has been solitary for a long time and is unsure of herself regarding relationships. Together they journey to the source of knowledge in the Kingdom, the Clayr Glacier. Here they find some answers and undertake a quest to foil an evil witch who is mobilising armies to conquer the peaceful land.
In tandem with this narrative is the story of Ferin, a strong young woman from one of the nomadic tribes from the far North, who is travelling south with an important message for the Clayr, from Lirael's dead mother. Ferin, a corruption of Offering, has no real name. She has been trained from birth to be the best of her tribe, the strongest, the bravest, the most skilled so that she will be worthy to become possessed by the Witch With No Face who rules her tribe. I found Ferin's quest a much more interesting story than the Lirael/Nicholas thread. Ferin is indomitable in her valiant attempt to be true to her mission and bring honour to her tribe. Nix is endlessly inventive in throwing obstacles in her way but she does get to deliver her message although not unscathed.
It is a common practice in fiction to write parallel stories in alternate chapters as it heightens suspense and engagement but here I found it irritating. Ferin's story is stronger and overshadows the less compelling Lirael/Nicholas thread. They do come together for a final struggle in the last part of the book which is a satisfying final to this story, although not, I suspect the final in the series.
Reviewed by Mia Macrossan