Jackie Kerin (text) and Annie White (illustrator), Gold! Ford Street Publishing, September 2020, 32pp., RRP $16.95 (pbk), ISBN 9781925804539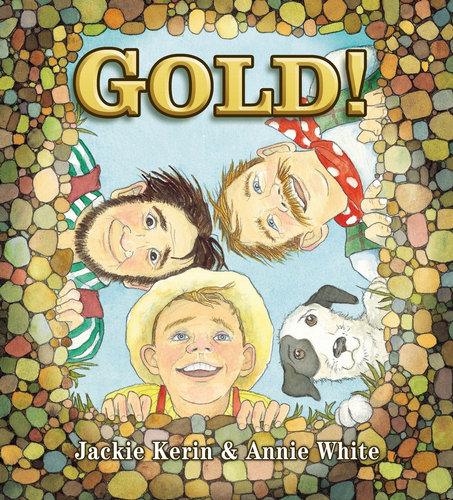 This book is inspired by the art of Eugene Von Guerard and S.T. Gill this colourful account of the Central Victorian gold rush in the late 1850s is a fine picture book. Kerin and White start their story with the drastic impact of the gold rushes on the Dja Dja Wurrung and Wadawurrung people, and how intoxicating the call of 'gold!' was across the world. They then take four boys to Kingower where they struggle and dig for months. Eventually they are given a trip to England and meet the Queen, despite the dire warning of a woman who constantly predicts the worst. And then the Eureka Stockade occurred, another significant event in the development of Australia's colonial past. 
In the last few pages, the authors expand our understanding of the times. The methods used to find gold are given in more detail. The largest nuggets that were found, and their values are discussed.
Throughout the book each incident is enriched by evocative pictures of the boys, their neighbours on the fields, the range of people who responded to the call, and the gold itself. Easy to read, amusing and informative Gold! Is suitable for early primary years.
Reviewed by Stella Lees