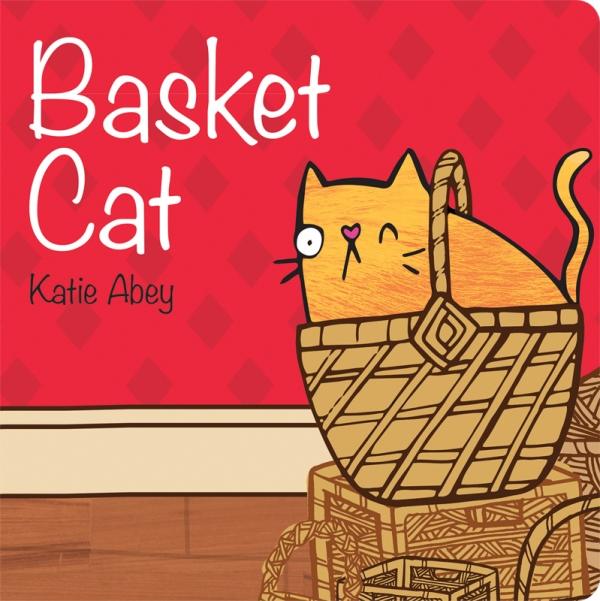 Katie Abey,  Basket Cat,  The Five Mile Press,  June 2016, 18pp.,  $12.95 (board book),  ISBN: 9781760402303
Katie Abey,  Dog House,  The Five Mile Press,  June 2016, 18pp.,  $12.95 (board book),  ISBN: 9781760402310
Katie Abey's books, Basket Cat and Dog House are two colourful and lively easy-care books to be enjoyed by small children and the adults who read them.
In Basket Cat, we meet a friendly feline who, like most cats, loves baskets and spends a lot of time trying out numerous ones for comfort.  But the one difference between other cats and Basket Cat is that she dreams of having a basket of her own.
This is a sweet story told in the very simplest of forms – at times the text is limited to only two words per view – so it is the vibrancy and detail in the illustrations that complete the story in a rich palette of colour and minimalist design.   This image-based book therefore creates an excellent opportunity to extend the reading activity into conversation about the many familiar objects on each page.
Dog House is about Toby; a little dog who is trying to find his home.  He wanders through the countryside asking numerous animals if his home is with them.  Of course, it is not.
While this certainly isn't a new theme for an early childhood book, Katie Abey's delightful illustrations bring a new energy to this familiar tale as it explores the world of animals and their habitat.   However, while it certainly delivers the message successfully, I would have liked mention of the animal's name in each response to the lost dog's query.
For example, when Toby comes across a pond, he asks a small frog atop a lily pad "Do I live here?"  The frog answers "No! Ribbit, ribbit."  I felt that the inclusion of 'said the frog' would have brought an extra layer of learning and understanding for small children; the animal is thus identified by sight and sound to emphasise the connection between the image of the animal and the spoken name.  While it's true that most of us would indeed identify the animal featured on the page, it is probably prudent to consider that not all adult readers will actually name the animal.
Both Basket Cat and Dog House are vibrant beautifully designed books which offer hours of interactive discovery about words, images and information for small children.  These books would certainly be a welcome addition to any early childhood library.
Reviewed by Jennifer Mors