Thomas Taylor, Gargantis (The Legends of Eerie-on-Sea #2), Walker Books Ltd., May 2020, 351 pp., RRP $17.99 (pbk), ISBN 9781406386295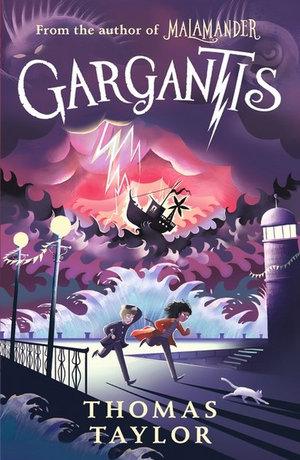 Gargantis continues the story of Herbie and Violet in the village of Eerie-on-Sea. While, as you read, you'll see references to Malamander, the first in the series, however, this can easily be read as a standalone.  There's more than enough in this book to know what happened in the first.  
Herbie Lemon is the Lost-and-Founder at the Grand Nautilus Hotel, and Violet Parma is his best friend. They are both orphans, but they have found each other in Eerie-on-Sea, and in this book, Thomas Taylor makes it quickly clear they are the best of friends.
This adventure begins when Mrs Fossil, Eerie's only professional beachcomber finds a bottle, with strange writing that way too many people want. Lady Kraken, the owner of the Grand Nautilus, however decrees that as it is a lost item, Herbie should be the one to decide to whom it belongs.
However, Herbie finds something far more interesting inside the bottle, and with that the legends of Eerie-on-Sea and a rather bad storm they're going through start to make sense: Gargantis, the creature who is directly tied to the village and its survival is waking up and wants its treasure back.
From that point, Taylor takes Herbie and Violet on a faced-paced, exciting adventure in an effort to solve the mystery of Gargantis, a missing fisherman and what to do about the treasure inside the bottle.
Gargantis was such a treat to read. At 351 pages, I couldn't help but wonder initially if this would be too long, but the author has such a talent for pacing and humour that those 351 pages flew right by.
Herbie and Violet are so much fun – they don't exactly fit in, but they do fit with each other. Violet is brave and sometimes too reckless, while Herbie is brave, but perhaps too cautious. No matter what though, if the other needs them, both of them will step up. They also help each other be brave in different ways. I liked too that if they are in the wrong, they will apologise to each other, and say as much.
I also want to point out that Violet is a person of colour, as indicated by the cover. In this book, she is already established as a character so her description isn't touched upon a lot – she just happens to be a brave, intelligent girl on a great adventure with her best friend.
I adored the humour in this, and that Taylor makes so effortlessly part of the narrative – I honestly don't think I stopped smiling through this entire thing. Taylor also brings Eerie-on-Sea to life so wonderfully – from the fishermen who fear, and live by, the myths of the sea, to the various secondary cast of characters like Lady Kraken, Blaze (one of their cohorts on this adventure), Erwin the talking cat, to Mrs Fossil and Doctor Thalassi, who both lay claim to the mysterious bottle that starts this adventure.
Gargantis is a fast-paced, action packed adventure that will grab young readers and keep them engrossed until they very end.
Reviewed by Verushka Byrow