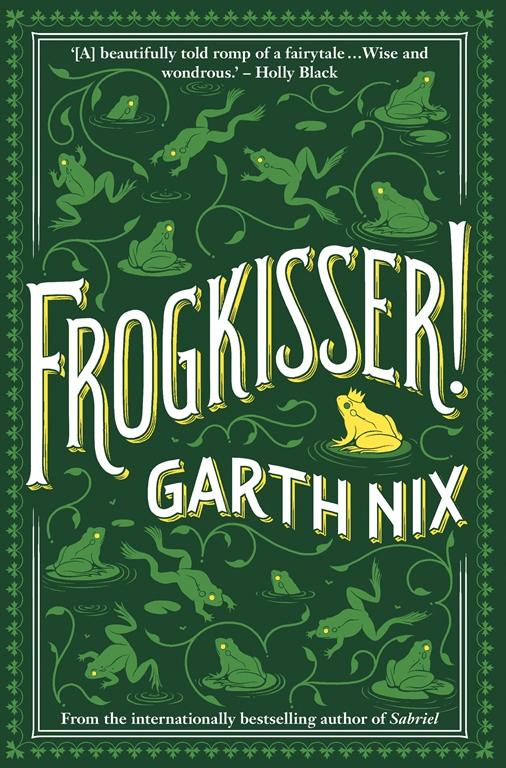 Garth Nix,  Frogkisser!,  Allen & Unwin,  March 2017,  336pp.,  $19.99 (pbk),  ISBN: 9781760293512
This is no mushy, romantic fairytale; this is adventure, humour, and battles, with a Princess who will kiss frogs, wade through sewers and trust her life to a nerve-wracking flying carpet to get the job done.
Princess Anya promised her sister Morven that she would find Morven's True Love, who was turned into a frog by their stepstepfather (it's a long story), the evil sorcerer Duke Rikard. Except Morven has lost interest in her amphibian suitor, Duke Rikard has lost patience with waiting for the throne of Trallonia, and now Anya's promise has snowballed into a full-blown Quest.
Anya is on the run from Duke Rikard, who has threatened to send her on a one-way, and probably fatal, trip to a faraway school. She keeps collecting transmogrified companions, who are putting the pressure on her to reverse their condition, and she's torn between an increasing feeling of responsibility and a longing for her nice, quiet library full of books.
Anya is a pragmatic princess, pushed to answer the question, "If not me, then who?" Like most of us, it takes a hard shove to push her out of her comfort zone, but once there she begins to examine her life and her choices, and comes to some uncomfortable decisions.
Under the humour of this adventure lies a strong sense of moral and ethical responsibility that resonates in a time when many of us are left questioning what we can and should do to help the world and the community we live in.
Garth Nix is one of the leading lights of Australian children's and young adult fantasy fiction, and in Frogkisser his wry sense of humour comes into its own. He obviously enjoys playing with the fairytale tropes, and I loved some of the situations and characters that crop up. For a start, frog-kissing isn't as easy as the fairytales make it sound. Nix's take on Snow White and the Seven Dwarves is quite unique, and Anya is both helped and hindered by an assortment of Gerald the Heralds (it's a job title, not a name, and the uniform includes a tunic and a false nose).
Garth Nix credits a number of classic fantasy authors with influence and inspiration, including Diana Wynne Jones, Robin McKinley and T.H. White, and Frogkisser would certainly appeal to readers with a sense of humour who have enjoyed these authors. The comparison that leaped to my mind, however, was Patricia Wrede's Talking to Dragons. I suspect that Wrede's Princess Cimorene and Nix's Princess Anya would get along famously, should they ever meet.
Girls and boys from nine years up should have a lot of fun with Frogkisser.
Reviewed by Emily Clarke