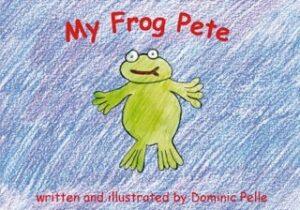 PELLE, Dominic My Frog Pete Self Pub, 2013 unpaged $18.95 pbk ISBN 9780646905952
My Frog Pete tells the story of an unnamed boy who finds a tadpole in a dam on his Grandpa's farm.  Naming his new pet Pete, the boy watches him grow into a frog and then hop away, only to turn up in a most unexpected place.
The text is written in verse, occasionally awkward in its metre and rhyming, and set in very large font.  The right-hand side of each double-page opening is a full-page illustration in colour.  The art style is very childlike, using what looks like coloured pencil or crayon and pen.
While the book gives the impression of having been created by a young reader, it is dedicated to the author's wife so is obviously written by an adult.  It is interesting to ponder if there is a back story to this book which is not revealed.
reviewed by Lynne Babbage