Kristen Schroeder (text) and Hilary Jean Tapper (illustrator), Freddy the Not-Teddy, EK Books, May 2022, 32 pp., RRP $24.99 (hbk), ISBN 9781922539090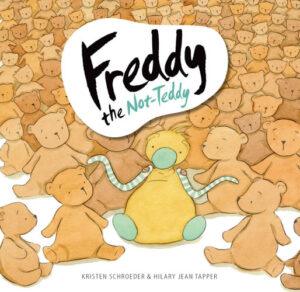 Kids have all sorts of comforters and treasures. Over the years at our house, we've had a floppy dog called Fluffy, a stuffed lion called Lion, and we still have a couple of blankies that make bedtime possible. Freddy the Not-Teddy is about Jonah and his special toy, Freddy.
Freddy is a bit indescribably, indistinguishably unidentifiable. Whether he's a duck or penguin or something else is entirely irrelevant to Jonah. Then comes the day of the school Teddy Bears' Picnic and Jonah is confused about if he should bring along Freddy or a proper teddy-shaped toy. Readers will be able to relate to Jonah's two-mindedness: his loyalty and love for Freddy and his desire to not be different from his classmates.
The strongest theme in this book is the bravery it takes to be true to yourself or kind to others, especially when you expect peers will not understand. Jonah knows that everyone else will have a teddy, but he cannot fail Freddy by being ashamed of him.
The illustrations are soft and simple, in lovely pastel tones. The illustrations accent the text rather than help progress the story, so there's no need for little ones to be strong in visual literacy. They won't need subtle plot points to be explained, they can listen and enjoy without too much work. As such, this story is ideal for a 2-6-year-old audience.
Reviewed by Cherie Bell