Jory John (text) and Lane Smith (illustrator), Cat Problems, Walker Books, October 2021, 48 pp., RRP $26.99 (hbk), ISBN 9781529506136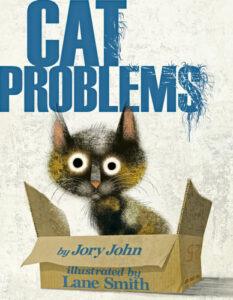 Cat lovers will adore this new offering from prolific picture book author Jory John. Employing the trademark black humour used in Penguin Problems, the story follows a house cat lamenting its life – Now I'm wide awake and I only got nineteen hours of sleep. Sigh.
So, now a confession. I'm NOT a cat lover. I'm a firm member of Team Dog. So, the stream of cat hijinks, clawing the couch, demanding one's 'spot' and going ga-ga over a catnip toy, wore a little thin for me. The highlight was definitely a grumpy squirrel who told the cat to stop whinging and enjoy his life.
Gorgeous illustrations from Smith, particularly the expressions on the poor 'other' cat who shares with the narrator, added to the humour and sense of play. This book might be used in the classroom as a starting point for projects on pets or animals. I'm sure it would inspire kids to share about the personalities of their own pets.
Reviewed by Heather Gallagher