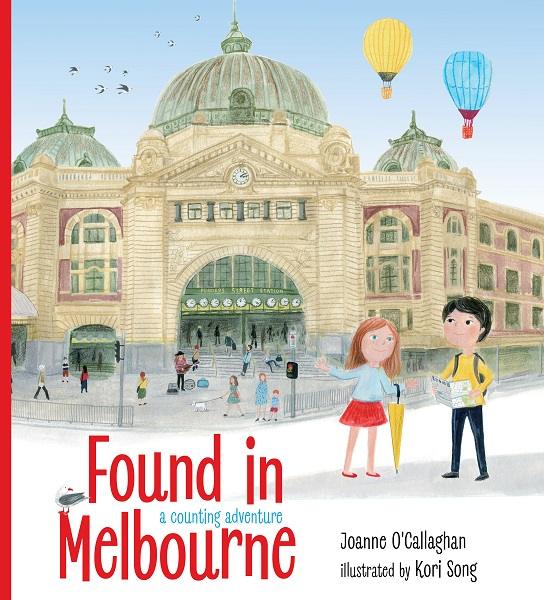 Joanne O'Callaghan (text), Kori Song (illus.), Found In Melbourne: a counting adventure, Allen & Unwin, 28 March 2018, 36pp.,  $24.99 (hbk),  ISBN: 9781760523411
Found In Melbourne follows a girl and a boy ond their travels through the landmarks of the wonderful city of Melbourne, and the wider area of Victoria. Each page showcases a different place with a cheeky rhyme and something to count – all the way up to the million stories to read in the Reading Room of the State Library. Along the way we get to visit the Shrine, the MCG, Puffing Billy, Flinders St and more.
O'Callaghan has done a marvellous job of choosing the places and experiences that will tickle Melbournians, and show off our city and state to those from afar. This makes Found In Melbourne the perfect gift for those children who experience some of these places every day, and those who are coming for a visit. O'Callaghan's rhymes are simple and restrained, allowing the illustrations to shine.
Song's illustrations are the heart of this book – warm, recognisable and full of heart. The nine magpies flying over the MCG are particularly beautiful, broad wings outstretched while the AFLW is played below.
The last page of the book gives extra detail about each place, ideal for teachers or parents wanting to discuss any places further.
This book has been translated by Kevin Yang into Simplified Chinese – the first children's book to be published in both English and Chinese simultaneously by an Australian publisher. What a great present for a young Chinese visitor to our city, or a Chinese speaking resident. Also what an ideal resource for Chinese language teachers all over the country.
Reviewed by Madeleine Crofts