Lorraine Marwood, Footprints on the Moon, University of Queensland Press, February 2021, 256 pp., RRP $16.99 (pbk), ISBN 9780702262838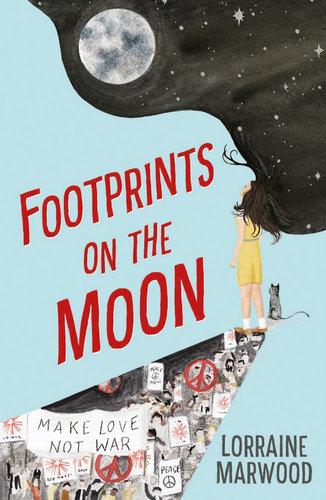 1969. While astronauts are navigating to the moon, Sharnie is navigating her way through her first year in high school (just). She wonders if the world will change when man walks on the moon. However much Sharnie wishes things would stay the same, change is coming. She feels less included in the life of her older sister, Cas, who is growing up and growing away from her. Family life gets rocky as her patriotic dad discovers Cas has met a returned soldier and is intent on making a stand about conscription and Australia's involvement in the Vietnam war. At school, Sharnie's only friend Mia is also drifting away from her towards her nemesis, Ellie. She usually finds comfort at her grandma's, but Grandma is becoming forgetful lately and Sharnie is worried. Although it is hard, will Sharnie be courageous enough to moonwalk, to find her own way?
This heart-warming verse novel took me on an emotional ride as I felt thoroughly immersed in Sharnie's world. Marwood's lyrical prose captures the essence of her character's desires, fears, and heartaches. The year 1969, a time when people marvelled at man's ingenuity, yet still struggled with the inhumanity of war, is a perfect backdrop for the issues Sharnie must surmount, finding the courage to take her first step. I highly recommend this book to upper primary and lower secondary readers.
Reviewed by Sharon Seymour