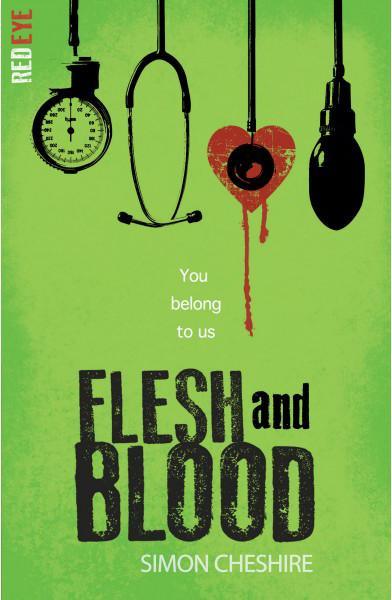 Simon Cheshire,  Flesh and Blood (Red Eye #3),  Little Tiger Press, 1 August 2016, 336pp.,  $14.99 (pbk),  ISBN: 9781847154569
What do you do when you know the neighbours are up to something sinister, but nobody in the world seems to believe you?
This dark and highly atmospheric novel is definitely not for "younger readers"… it is pitched firmly at the mid to late teen demographic, who I think would get a real kick out of it.
The story chronicles the adventure of young Sam Hunter, a high school student who moves into a wealthy area just as a gruesome murder is discovered in a neighbouring area.  Sam, an aspiring journalist, cannot let the mystery rest, and what he uncovers is a terrifying conspiracy he could never have imagined.
Cheshire has come up with a real page-turner here, a gripping and engaging story that hooks the reader in and doesn't let them go until long after the final page has been turned.  He has shown real talent in the genre of suspense and horror, crafting a narrative that is clever and original whilst still paying homage to its forebears.
Written in the first person, the book takes the form of a "recollection", penned by Sam after the events of the story have taken place.  This adds a certain sense of foreboding… we know from the start that something terrible has happened, but we are in the dark as to what form that something will take, and what the ultimate fate of Sam and his friends will truly be.  The tension builds beautifully and the action is superbly paced.
It's worth mentioning a second time that the book should be reserved for the older readers in the Young Adult audience and, even then, only those who enjoy reading about the gruesome and the grotesque.  For those brave souls, Flesh and Blood is a ride they will not soon forget.
Reviewed by Christian Price