Samantha Wheeler, Everything I've Never Said, University of Queensland Press, October 2018, 224 pp., (pbk), RRP $16.95, ISBN 9780702260278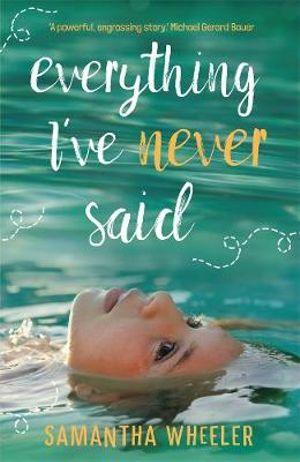 This book does what literary icon Atticus Finch advocates in To Kill a Mockingbird. Finch proclaims you can never really understand another person "until you consider things from his point of view… until you climb into his skin and walk around in it." Author Samantha Wheeler is to be congratulated for authentically achieving this in spades with her character Ava. Ava has Rett syndrome which means she can't talk, nod her head or even point at a communication card. But she understands everything.
This notion, of literally being trapped inside your own body, resonates throughout the book and as a reader you can't help championing Ava and buying into her dream to make herself understood. I confess, I wondered how a book about a disabled girl would hold interest for the target audience. But this is Wheeler's strength as a writer – she takes an individual's journey of struggle and feelings of being misunderstood and makes it universal. The novel became compelling, dare I say unputdownable, until I'd found out how and whether Ava would resolve her problem.
This book will be a fabulous resource for disability advocates but deserves a wider audience. The story includes the struggles of Ava's parents and sister Nic and also demonstrates how these are multiplied when Ava's father has a stroke. The message of seeking help and seeking answers – as demonstrated by the carer Kieran – can be applied to many different situations.
Extra kudos to Wheeler who was inspired to write the story by her youngest daughter who has Rett syndrome.
"Children with disabilities and the families who love them are rarely found in novels," she said. "One of my aims with this book was to create characters who are role-models, who show us that it's okay to ask for help."
Highly recommended.
Reviewed by Heather Gallagher