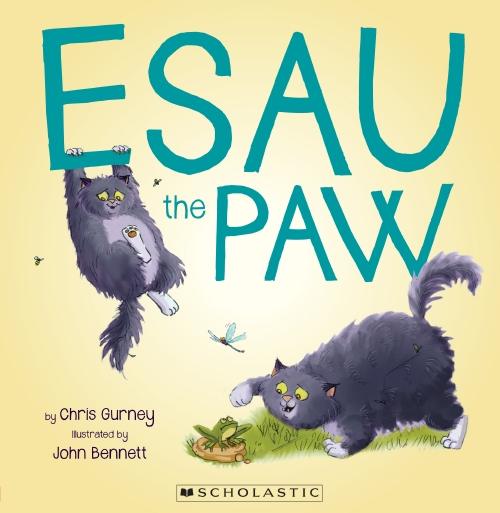 Chris GURNEY (text)  John Bennett (illustrations) Esau the Paw  Scholastic (NZ)   1 April 2014 unpaged $15.99 pbk   ISBN 978-1-77543-185-5
For those of you who "own" (as if cats can be "owned") a Persian cat, this picture book will resonate. What with biddy bids and fur balls, the challenge of looking after a long-haired cat is not for the faint-hearted. So, when Esau the paw who has "too many tangles and twigs in his hair" that result in his fur being "a disgrace and a shame" and he is "matted and messy and knobbly and gnarly," his Very Tall Mother must do something. The vet gives him a very good clip and the problem is solved. Or is it? Well clearly the vet is no psychologist as poor Esau the Paw feels poorly indeed. No puss likes to feel the odd one out and so our little fella withdraws into himself. Will he get better our little fella? Hmmm!
The illustrator uses a cartoon style, and adds much drama to the unfolding tail (sorry ditty) with exaggeration, colour, and extra detail giving much humour. A must for cat lovers.
reviewed by John McKenzie