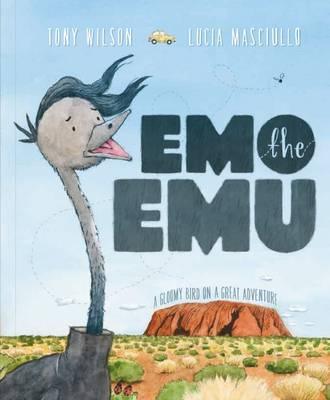 Tony Wilson (text) Lucia Masciullo (illus.) Emo the Emu Scholastic Australia, 1 Nov 2015,  32pp., $24.99 (hbk),  ISBN 9781742834382
Told in rhyming verse, this is the story of a grumpy emu who is moody, mopey and sad. He complains about everything to all his family until one day he meets Katie kangaroo. She takes him around Australia showing him the major attractions "Let's travel the country by foot, car and bike, Until you admit there's something you like".
The travel theme is reinforced by the design of the end papers and the illustrations are quirky with added background details to enhance the text. The watercolours are delicately applied, with pencil added for effects to depict the various landscapes and sites.
Great care has been taken with the rhyming and there is a real place called Angurugu in the Northern Territory which was used to rhyme with" kangaroo who". Suitable to read to pre-school children and up to 8 year olds.
Reviewed by Julie Long