Katie & Kevin Tsang, Dragon Legend (Dragon Realm #2), Simon & Schuster UK, March 2021, 320 pp., RRP $14.99 (pbk), ISBN 9781471193095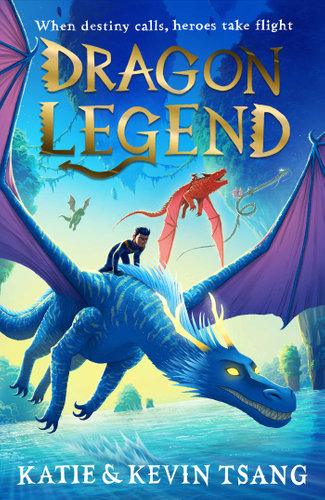 Dragon Legend is the second book in the Dragon Realm series, following Dragon Mountain, published in October 2020. 
Billy, his friends and the dragons know that they have a fierce enemy in the Dragon of Death and they need to stop her gaining power. But the Dragon of Death has kidnapped Dylan, along with his pearl, his source of power. They have lost Dylan but they have gained JJ – the grandson of Old Gold, camp leader and traitor to humans – who may or may not be of help before their adventure is over. Their powers are increasing but they need Dylan and his pearl to be at their strongest. Their first goal is to find Dylan, then they will be strong enough to face their biggest challenge. They know that the Dragon of Death is after the other pearls because they will give her the strength to fulfil her terrible promise of a dystopian future in which those – human and dragon – who do not join her, are enslaved. And the best way to stop the Dragon of Death is to get all eight pearls before she does.
The children must face other dragons, the Forgotten Sea, the Blood Strait, the Frozen Wasteland and a Chinese Emperor to collect the remaining pearls. They must use their wits, trust each other and keep their hopes up if they are going to succeed.
The thrills, action and gentle humour continue in this fast-paced fantasy-filled middle-grade novel. It is a much-anticipated sequel to Dragon Mountain, which seems to have exceeded the authors' expectations of success. It is high interest, low difficulty with mild content, although less mild in this book than the first.
Highly recommended for upper-primary reluctant readers.
The third book, Dragon City, is due for release in September 2021.
Reviewed by Pamela Ueckerman