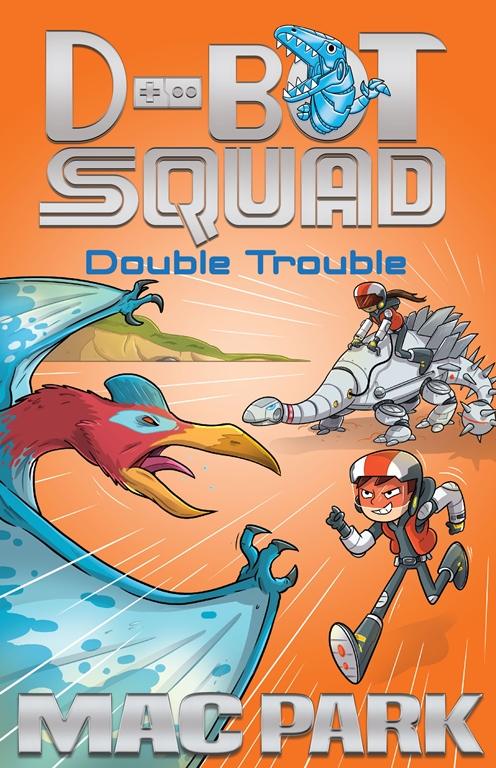 Mac Park (text),  James Hart (illus.),  Double Trouble (D-Bot Squad #3),  Allen & Unwin,  July 2017,  80pp.,  $9.99 (pbk),  ISBN: 9781760295998
Mac Park (text),  James Hart (illus.),  Big Stink (D-Bot Squad #4),  Allen & Unwin,  July 2017,  80pp.,  $9.99 (pbk),  ISBN: 9781760296001
Kids love dinosaurs! Combine the relatability of high tech gadgets for today's high tech kids and you will find that early readers will be engrossed in the D-Bot Squad series.
Join the dino hunters, Hunter Marks and Charlie, on their robotic dinosaurs as they fall from the sky in Double Trouble and face off against a farting dinosaur in Big Stink. You might think flatulence is just a ploy to get kids laughing but teachers that follow the reading with research on plant eaters will find the authors are weaving facts into their stories.
Apart from these facts, there are a lot of learning opportunities from these books. We learn about the different characteristics of dinosaurs; about teamwork; the process of problem solving; and Hunter's internal dialogue shows his pathway to personal growth. What was a standout lesson for myself was that girls can do what boys can do with no egos from either getting bruised or busted.
Written especially for early readers by super duo Louise Park and Susannah McFarlane, each book has limited text per page with some challenging words that are easily deciphered to increase a readers' confidence levels, assorted fonts for visual pleasure, and stimulating illustrations by James Hart where readers will relish pointing out familiar objects.
These books are amazing… filled with action and so, so funny! Each book ends on a cliff-hanger that will encourage readers to 'hunt' for the next book in the series to feed their curiosity. Recommended for 6yrs+ and a great read aloud for younger children.
Teachers notes, downloadable activities, a book trailer and supporting information are all available from the Allen & Unwin website.  You will find games and advice on encouraging boys to read on the Mac Park website.
Reviewed by Sharon Smith