Michael Panckridge (text), James Fosdike (illus.) Double Delivery (Big Bash League #3), Random House Australia, 31 Oct 2016, 160pp.,  $14.99 (pbk) IBSN: 9780143782230
Michael Panckridge (text), James Fosdike (illus.) Bowling Blitz (Big Bash League #4), Random House, Australia, 31 Oct 2016, 160pp.,  $14.99 (pbk)  ISBN: 9780143782254
In Double Delivery (Big Bash League #3) cricket-crazed twins Maggie and Millie bring their fielding and sleuthing skills to Queensland. Quick to make friends with the local kids, the girls are surprised to find out that it's boys-only at this cricket club. Even more shocking, there's a thief among the residents at their uncle's caravan park and Maggie and Millie are determined to figure out who it is. In their own unique way, the twins set out to solve the mystery of missing equipment and show everyone that girls can play cricket just as well as boys before their holiday is over.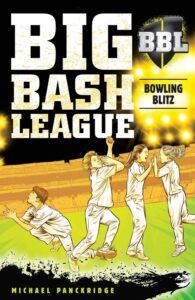 In Bowling Blitz (Big Bash League #4) brother and sister cricketers, Jimmy and Izzy, are new to Adelaide. Although they will always cheer for their hometown team, the Perth Scorchers, they join the neighbourhood cricket club and are immediate standouts for their cricketing skills. But Jimmy is off to a rocky start as his new Go-Pro is stolen and a competing team is trying to lure him to play on their side. Will Jimmy find the confidence to join the right team?
In this action-packed junior fiction series, cricket is front and center, but there is so much more going on than just playing sport. From new pals to dealing with self-doubt, these books bring together a number of elements to both entertain and educate young readers. From the importance of friendship to the ethics around bribing players, Big Bash League delivers crowd-pleasing action and excitement with authentic emotions and age-appropriate issues. Plus, each book comes with tips on improving different cricket skills and both BBL and WBBL (Women's Big Bash League) stats. In Bowling Blitz, the tips include a checklist for fast bowlers and instructions on how to throw a swinger. While Double Delivery highlights fielding tips and includes directions for Dice Cricket, a game that is played in the story. With mysteries to solve, friendships to navigate and new characters in every book, Big Bash League is perfect for sports-minded primary school readers.
Reviewed by Stephanie Ward