Michael Panckridge (text), James Fosdike (illus.) Double Delivery (Big Bash League #3), Random House Australia, 31 Oct 2016, 160pp.,  $14.99 (pbk) IBSN: 9780143782230
Michael Panckridge (text), James Fosdike (illus.) Bowling Blitz (Big Bash League #4), Random House, Australia, 31 Oct 2016, 160pp.,  $14.99 (pbk)  ISBN: 9780143782254
Big Bash League is a fantastic series for cricket lovers or children who enjoy cricket and love an unsolved mystery. Panckridge has cleverly crossed genres and created really interesting storylines in this non-gender specific series. Maggie and Milly in Double Delivery are two feisty girls who argue their way into the boys-only cricket team with some mind boggling techniques, and solve a local mystery along the way. Here are two girls who can bat, bowl and field as well as think outside the square.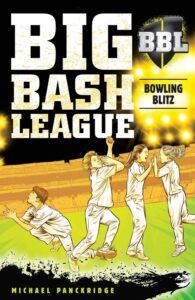 The boys are allowed to express sadness in Bowling Blitz where Jimmy, a talented bowler, experiences self doubt and even becomes teary when the family camera is stolen: a perfectly normal reaction, but one I don't usually come across in books about boys dealing with challenges.
Michael Panckridge, a secondary school teacher, wrote these books to encourage reluctant readers. On his website, to encourage reluctant writers, readers can send a question to one of the characters and Panckridge 'will make sure it gets to the right person.'  The website includes an Over To You section with writing tips and activities to encourage reading and writing.
I loathe sport (I was the kid hiding behind the classroom when teams were chosen) but I really liked these books.
Reviewed by Katy Gerner