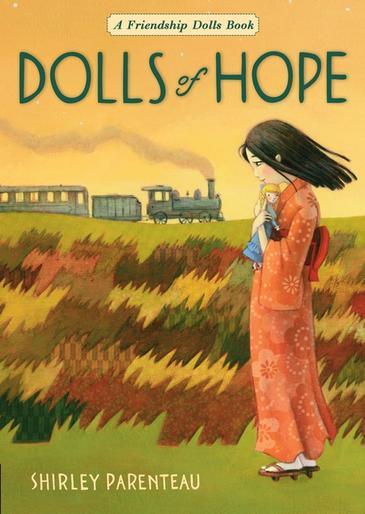 Shirley Parenteau, Dolls of Hope, Candlewick Press/Walker Books Australia, 1 May 2018, 336pp., $14.99 (pbk), ISBN 9781536200263
When village girl Chiyo's older sister is engaged to a wealthy land owner, she is sent to a distant school to learn how a "traditional" girl should behave in Japan in 1927. The guileless and naive Chiyo feels out of place among her more sophisticated companions, but soon makes new friends. However, she is bullied and tormented by Hoshi, who is the daughter of a general and considers herself the leader of the class. When Chiyo is made protector of a doll sent from America as a symbol of peace between the two counties, Hoshi becomes extremely jealous and frames Chiyo for the destruction of the important doll. Chiyo bravely sets out to have the doll repaired by a master doll maker in Tokyo to redeem her reputation. Ultimately, the truth is revealed and Chiyo is left with a choice to return to her village or to the school which has already changed her life.
Using the historically true exchange of dolls between America and Japan in the late 1920s as the background for this novel, Parenteau explores both the setting and attitudes of the time. Japan is modernising and some women are choosing a more independent lifestyle. The novel explores the tensions between the forces of tradition and change and especially those advocating peaceful existence and those, like Hoshi's father, who want to belligerently expand the empire. Chiyo finds herself embroiled in these conflicts and her personal choices between what is expected of a traditional girl and modern city ways reflect the turmoil of the society. For Chiyo, personal integrity and the path of hope show her the way forward.
Dolls of Hope builds on Parenteau's earlier novels Ship of Dolls and Dolls of War, but it can be read as an independent text. The characters are interesting and the plot moves at a fast pace while the school setting has a timeless, universal appeal. Suitable for lower secondary school readers, Dolls of Hope is an adventure that explores important themes of peace, courage and societal and personal change.
Reviewed by John Nolan