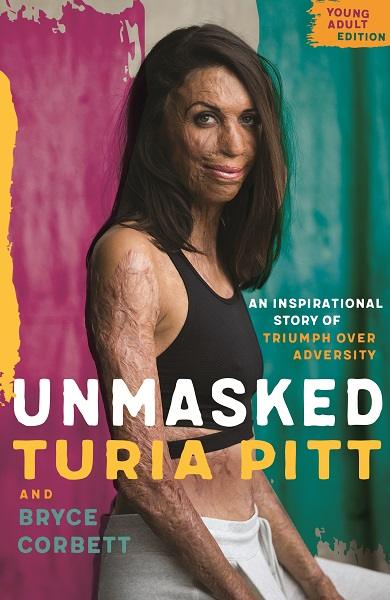 Turia Pitt and Bryce Corbett Unmasked (Young Adult Edition), Random House Australia, 30 April 2018 274pp., $17.99 (pbk) ISBN 9780143790396
While a large percentage of the Australian adult population will be familiar with Turia Pitt's remarkable story of survival after being caught in a wildfire during an ultra-marathon in the Kimberley in 2011, many teenagers may not. This YA version of her autobiography, also co-written with Bryce Corbett, tells of her amazing recovery and the life lessons she knew before the accident and those she has learnt since.
While the book starts with the fire, Turia does describe her upbringing. Born in Tahiti to a Tahitian mother and Australian father, Turia came to Australia aged two. After six years in Sydney, the family moved to Ulladulla, where Turia grew up and where she still lives. This region, with its beautiful environment and proximity to the ocean, has been vital to Turia's recovery and well-being.
There are several strengths to this book. Apart from its easy-going, easy-to-read and engaging conversational tone, insights are provided by the most important people in Turia's life. Her husband, mother, father, parents-in-law and good friends all have sections where they talk about her and the effects the accident had on them and their relationships with Turia. The photo section in the middle of the book contains pictures of them all.
Above all, Turia's grit and determination to recover from this, and prove the doctors wrong with what she could achieve, are inspiring. After all, this is a person who not only trained for an ultra-marathon in the desert but has, since the fire, trekked the Kokoda Track, competed in two more ultra-marathons including the Kona in Hawaii and raised a lot of money for the charity Interplast. Her attempt to climb to Everest Base Camp had to be abandoned when she discovered she was pregnant.
Turia outlines her philosophy for living life to the full, the lessons she has learnt and what is truly important. She encourages teenagers to have a similar mindset where their opinions of themselves are not dictated by social media and peer pressure. This is an optimistic, positive, feel-good book with great messages for the reader. Recommended.
Reviewed by Lynne Babbage