Loll Kirby (text) and Yas Imamura (illustrator), Do Something for Someone Else, Walker Books, April 2021, 32 pp., RRP $29.99 (hbk), ISBN 978191352013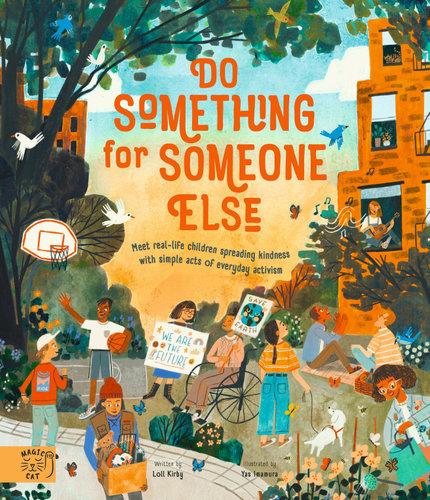 For children growing up in a world where being kind to ourselves, others, and the earth is an essential trait, the nonfiction picture book, Do Something for Someone Else ought to be a focal piece of literature for learning or inspiration for all Australian children.
Inspired by activist Michael Platt, written by Loll Kirby and illustrated by Yas Imamura, this topical text inspires children to take action and campaign for kindness. Through beautifully detailed double page spread illustrations and complimenting facts, each social justice issue is captured in an appealing way for a young audience.
Readers will find themselves immersed in the stories of young activists whose work is truly making a difference such as Mohamad from Syria who built a school in his refugee camp, nine-year-old Katie from USA who grew community gardens to feed the hungry, and Winter from Australia who founded a programme to provide clean water.
I found myself quite drawn to the simplistic message of the story: that we can spark change and advocate for kindness by using our hobbies, strengths, and passions. The twelve real life children in the story do this precisely, demonstrating how their actions lead to advancements in matters such as diversity, equal opportunities, and community wellbeing. I flipped each page in awe at the vivid colour and detailed illustration, perfectly portraying the change that each child influenced. In addition to this, the 'how to help' page at the end of the book is a call to action and provides achievable ways in which anyone can make a difference in their school and community through kindness.
This beautifully composed picture book is a source of inspiration for primary aged children and the beginning to a generation of activists. A key literary addition to our schools, libraries, and homes.
Reviewed by Olivia Sammut