Maree Kimberley, Dirt Circus League, Text Publishing, March 2021, 304 pp., RRP $19.99 (pbk), ISBN 9781922330253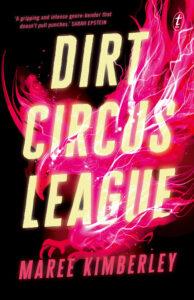 CBCA 2022 Notable for Older Readers' Dirt Circus League is a refreshing YA read that transcends genres with its thrilling blend of action, magical realism, and dystopia.
Seventeen-year-old Asa is seeking a fresh start and a place to belong. Escaping a troubled past, she moves to a small town near Cairns to live with her negligent father where the only friendship she finds is in Karen, her wise Indigenous neighbour.
However, something is missing for Asa as she struggles to settle into small town life. So when the notorious Dirt Circus League catches her eye, Asa is compelled to join their gang and enter into a world of action and excitement. But what Asa doesn't realise is that the Dirt Circus League isn't just a group of rebel teens, they are an obsessive and dangerous cult with a dark history of human sacrifice.
Simultaneously intrigued and trapped, Asa must make a decision – escape with the help of Karen or bring the League down from the inside?
The atmospheric oddness of Dirt Circus League is established early in the prologue, where an evil 'Surgeon' grafts the eyes of a crow onto the face of a conscious boy. Immediately, I knew that this novel was not for the faint-hearted. As the plot progressed, things got even more unusual with the cult of teenagers and their obsession with devoting their lives to 'Gaia', a fantastical Mother Earth.
While Dirt Circus League had quite a strange feel to it, this worked well as it kept me enthralled with the constant mystical suspense. The blend of genres was done well and will undoubtedly appeal to a high school audience. I also appreciated the unique Australian feel to the small-town setting and the inclusion of Aboriginal and Torre Strait Island characters and culture.
I recommend Dirt Circus League to YA readers who love a courageous heroine and a fast-paced, thrilling read.
Reviewed by Olivia Sammut