Gabriel Evans, A Human for Kingsley, Hardie Grant Children's Publishing, 32 pp., RRP $24.99 (hbk), May 2021, ISBN 9781760506919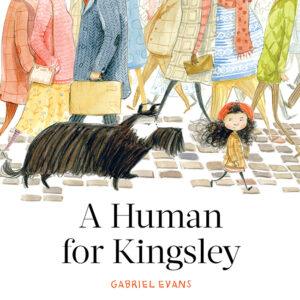 Kingsley is looking for a human to make his own, but with so many to choose from he struggles to decide which one is right for him. When he meets a young girl, he thinks she might be the one, even though she has some strange habits like bathing (on purpose!) and bossing him around. When he finds that she needs him too, Kingsley realises he has found his human.
A CBCA notable for Early Childhood Book 2022, A Human for Kingsley is a charming story for children aged 3-8 years. It explores themes of friendship and acceptance in a unique way. It is joyful and warm, with imperfect yet lovable characters. Subtle humour is woven through the story, especially in the juxtaposition of text and illustrations.
The watercolour/pencil illustrations are full of gorgeous detail. The scenes in the street stand out as there is so much to explore. Each background character looks like a real person, with their own style, personality, and purpose. Interesting angles, a stylish colour palette and expressive characters make A Human for Kingsley a visual delight.
Reviewed by Laura Holloway