C. S. Pacat, Dark Rise, Allen & Unwin, September 2021, 464 pp., RRP $19.99 (pbk), ISBN 9781760875749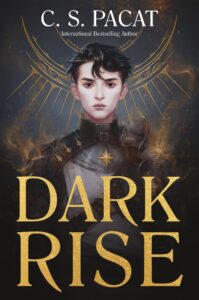 The old world of magic and heroes is long dead. Destroyed by a battle between light and dark. History forgotten by all but the Stewards, the final flame, sworn to protect humanity if the Dark King ever returns. But their numbers are dwindling, and the darkness seems to grow ever more potent.
Violet has always looked up to her older brother – but when she learns the sinister truth about the work her family does, her world is turned on its head. Left only with her supernatural strength and the strange boy she rescued from a sinking ship, Violet becomes stuck between two worlds that don't want her.
For months sixteen-year-old Will has been on the run from the mysterious men who murdered his mother. After stumbling into Violet and the Stewards, Will finds himself at the center of an age-old plot in the war between light and dark.
With omens of the Dark Kings' return emerging, will Violet, Will, and the Stewards be enough to prevent history from repeating itself?
Combining the grit and grime of 19th century London with the glamour of medieval fantasy, Dark Rise by C.S. Pact is a thrilling novel full of twists and turns that will leave readers breathless. It explores the concepts of fate, good and evil, loyalty, and found family in an intriguing world where not everything is as simple as it seems. The friendship between Will and Violet is central to the novel, and I enjoyed that while there were slight elements of romance this was not a focus. I savored watching insightful Will piece together the mysteries surrounding him, with his courage, wit, and charm being his only tools to survive while surrounded by the supernaturally gifted.
With a jaw dropping ending that throws everything that came before into question, Dark Rise is the first in a trilogy. An engrossing YA novel I'd recommend to any fantasy lovers,
Reviewed by Libby Boas