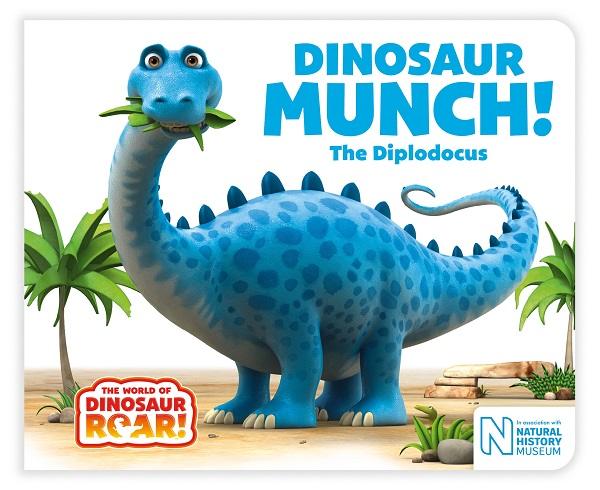 Jeanne Willis,  Dinosaur Munch! The Diplodocus (The World of Dinosaur Roar! #4),  Pan Macmillan Australia,   27 June 2017,  24pp.,  $14.99 (Board Book),  ISBN: 9781509835652
The fourth book in the World of Dinosaur Roar! Series, Dinosaur Munch! The Diplodocus is a gorgeous, sturdy board book, perfect for the little hands of junior dinosaur fans. Produced in association with the Natural History Museum in London, the rhyming tale tells of a Diplodocus dinosaur named Munch, who comes by his name due to his inexhaustible appetite.
Munch goes about his day, eating everything in sight, including the snacks of his friends Whack the Stegosaurus, Honk the Parasaurolophus, Chew the Iguanadon and Squeak the Compsognathus. Don't worry about pronunciation – inside the cover, each of Munch's friends are introduced with a handy phonetic guide, making sure everyone knows how to get their tongues around these complicated scientific names!
The simple story, presented in rhyme, comes to a climax when Munch discovers a snack that perhaps he should think twice about nibbling on – his own tail! The very young will love the bright illustrations, friendly faces of the dinosaurs and simple story.  While beginning readers may consider themselves too old for a board book, they might enjoy the challenge of reading to younger siblings.
The book is completed with a double page of basic facts about the Diplodocus, which is sure to please little ones who want to learn everything they can about these popular prehistoric creatures. Perfect for public library and home library collections, Dinosaur Munch is a lovely introduction to dinosaurs for children aged between 2-4.
Reviewed by Kay Oddone