Mitchell Starc (text) and Philip Bunting (illustrator), Day/Night Decider (Mighty Mitch #5!), Scholastic Australia, February 2019, 144 pp., RRP $14.99 (pbk), ISBN 9781742769172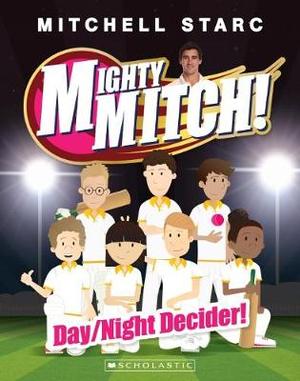 Mitch plays for the Wombats Under 10s cricket team and Coach/Dad has some exciting news: the Wombats will be playing the final against the Dingoes in a day/night match under lights… with a pink ball! Of course, this means that hilarity ensues in typical Wombats' style. After a disastrous photo shoot, Coach gets serious and asks the players to each set a goal for the last game of the season. They play a warm-up game and train hard to get used to the different conditions. Then the big game comes along and it's a nail-biter right to the finish: Mitchell's gamesmanship is tested along with his cricketing skills!
I recently reviewed book four in this series and since then the whole series has become a favourite in my household. The lovable quirky characters, the jokes and the gentle messages seem to have struck a chord. Once again, the focus is on personal growth, teamwork and kindness rather than winning. But there are also plenty of laughs and cricket references for the cricket fans.
I recommend the Mighty Mitch series for young cricket lovers, children who love humour and reluctant readers.
Reviewed by Pamela Ueckerman