We asked David Metzenthen to share his insights about his latest novel called Dreaming the Enemy. He graciously agreed, and wrote us something both insightful and informative.
A picture, a photograph was worth thousands of words to me when I was researching the experiences of Australians fighting in the Vietnam War in the early 1970's. I came across a photograph of Australian diggers who had won the Battle of Long Tan; but instead of medals they were presented with commemorative dolls, which was odd but what truly affected me was how young these men were. Seeing them, I immediately decided I should try and present an aspect of what a young soldier might've experienced in that war.
The title, Dreaming The Enemy, tells you much about this novel. Yes, it's based on intensive research and factual information, but it is an account of fictional conscript, Johnny Shoebridge's experiences. He fights his way through the war and then it endlessly haunts his dreams and reality. His tour of duty is constantly with him, as is an enemy soldier Johnny calls Khan, whom he fought.
I did not visit Vietnam as part of my research. The war finished fifty years ago, and because this work is a philosophical view of warfare, I felt my imagination was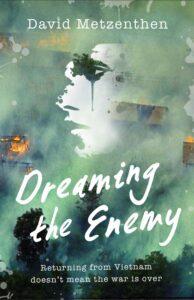 my greatest asset in creating a work telling something of the experiences of soldiers. I read books written by North Vietnamese enemy fighters, I read a diary of a North Vietnamese doctor who worked in the tunnel systems, I read many Australian accounts of the war, visited the websites of regiments, and spoke to veterans from Australia and a Phantom pilot from America. I also viewed footage of the war, yet Johnny Shoebridge and Khan are my creations and Dreaming The Enemy can only ever be a story – but this story is written as well as I am capable, which is all a writer can do.
My grandfather fought in the First World War, my dad served in the Second, but I have not been in the defence forces. A fiction writer can't have done everything, but what he or she must do is tell a story with integrity, and desire a truth. I sought to give a reader much to think about, and as a novelist works on different levels to a writer of fact, the type of work created is intended to provoke the imagination of the reader by delving deeply into character, motivation, and outcomes.
I wanted strongly to present something of what young Australians went through in this war, at the orders of their Government, and the great toll it took on them, their families, friends, and futures. In Dreaming The Enemy, I hope to have shown what happens to people, that what we do or is done to us, stays with us for a long time and must be met with compassion and understanding. The idea that I could do this through my work is a humbling and beautiful aspect of what it means to write. It also confers a responsibility on me to give my utmost to the novel, with the aim of giving to others something worth reading and thinking about. I hope people find Dreaming The Enemy as interesting to read as it was to write.
Thank you David, for sharing this.