Rick Riordan, Daughter of the Deep, Penguin Random House, October 2021, 368 pp., RRP $22.99 (pbk), ISBN 9780241538180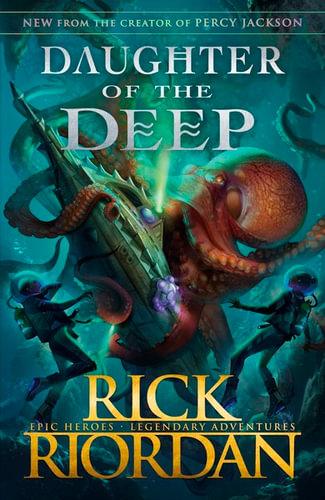 Rick Riordan fans this is a must read!
Meet Ana Dakkar.
Her life is turned upside in one day. Harding Perfect is no ordinary school. They have a cold war with another school that has just turned hot. They teach and train the best underwater explorers in the world. With her freshmen trial on the horizons, all Ana can think about is what they're going to be like. This all changes in an instant. Trouble is brewing. Readers must expect the unexpected.
Throughout the book Ana develops as a character. At the beginning she is a 'ordinary girl' who just likes going to school and hanging out with her friends and her brother, but her experiences challenge her character. She is forced to become stronger (both physically and mentally). Ana changes mentally as her leadership skills and her courage develop.  She also changes physically as she discovers and does things, she never believed were possible.
Daughter of the Deep is based on Twenty Thousand Leagues Under the Sea by Jules Verne. A book I never wanted to read but after reading Daughter of the Deep I do.  
Daughter of the Deep is a different type of novel to Percy Jackson as it is based on a fictional story rather than revolving around the mythical worlds of Ancient Greek and Egypt. But it will still appeal to Rick Riordan fans because all his legendary elements are there: the suspense, the relatable characters and the adventure.
Dive into a thrilling novel.
Reviewed by Niamh Clark (guest reviewer, aged 14)