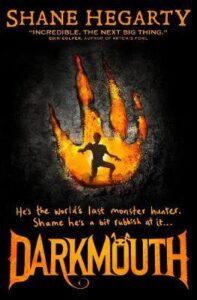 Shane Hegarty, Darkmouth (Darkmouth #1),  HarperCollins Australia, 1 Feb 2017,  416pp.,  $14.99 (pbk),  ISBN: 9780007545612
Shane Hegarty, Worlds Explode (Darkmouth #2),  HarperCollins Australia, 1 Feb 2017,  464pp.,  $14.99 (pbk),  ISBN: 9780007545674
Darkmouth is the first part of a series of the same name by Ireland's Shane Hegarty. Aimed at the middle school years, but an engaging read for older readers as well, Darkmouth is a big book that infuses horror/fantasy/thriller with humour, staving off the darkness just enough. It is also a story of families, particularly the burdens that parents pass on to their children, especially fathers to sons.
Finn is destined to follow the difficult path of the Legend Hunter set for him by a long line of male ancestors. His own father, Hugo, is preoccupied with the family business (fighting off legendary horror creatures regularly breaking through from the Infested Side), and working on how to take advantage of the leadership opportunity he has been offered in another town. Hugo has been training Finn to become the next Legend Hunter, but needs to step this up to be completed within the year. Finn is just twelve. He isn't proving to be a gifted student. And he harbours a strong desire to become a vet (not that he has shared this with his parents).
The story moves along at a cracking pace, and in a humorous manner. Hugo is a loving but flawed father, keeping information from Finn, and not listening to his real worries and desires. Whilst Hugo leads by example, his teaching skills lack finesse and organisation. The world of the novel is well described, punctured as it is by exciting incidents which demonstrate just what these threats from the Legends of the Infested Side look like and what they can do. The Legend Hunters do have a few tricks up their sleeves, mostly weapons and related technology, developed on a shoestring it seems.
There are a couple of strong female characters thrown into this mostly masculine heroic mix. One is Clara, Finn's mother, a dentist who keeps the family going in the real world. She would have liked to have been a Legend Hunter too, but the job is not open to "civilians". It is a bit like the Monarchy, apparently. Emmie is a new girl at school who takes an interest in Finn that no-one else outside the family ever has. There turns out to be a reason for this, but still she becomes a trusted friend. Emmie, it unfolds, is also the child of a Legend Hunter and has plenty of smarts and courage, but has been taught even less than Finn about her future role, seemingly because she is a girl. It was good to see these strong female figures, but a pity they were so much the exception to a very masculine world.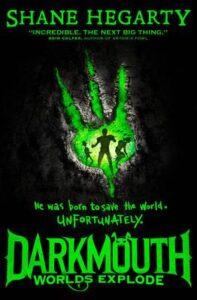 The second book of the series, Worlds Explode, takes a while to pick up the expected pace, concentrating on plot catch-up and some welcome consolidation of the characters, setting and tone. But, as the tension builds, the reader is delivered another exciting adventure which advances our knowledge of the infested side, as well as revealing more about the back story and what has happened to Finn's mysterious grandfather. This is a satisfying sequel which advances the tale and has a worthy finale, yet leaves us with a few issues left to be revealed in the next volume, due for Australian release very soon.
Darkmouth is a very enjoyable fantasy story with plenty of action, suspense and humour. It looks like a good series to collect for the upper primary and junior secondary years.
Reviewed by Marita Thomson