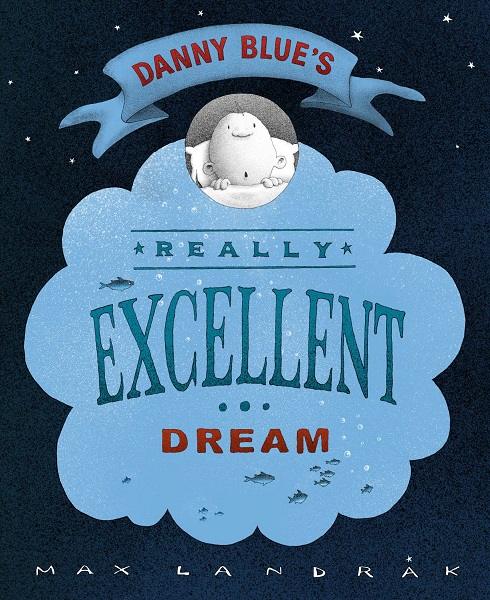 Max Landrak, Danny Blue's Really Excellent Dream, Lothian Children's Books/Hachette Australia,  26 Sept 2017, 32pp., $26.99 (hbk), $16.99 (pbk – out 27 Feb 2018), ISBN 9780734417589 (hbk); 9780734417596 (pbk)
Quirky and out-of-the-box. Danny Blue's Really Excellent Dream is an intriguing story about inventiveness and stepping out of one's comfort zone. It is essentially a book about 'blue' and colour – the double meanings and subtle, emotive 'tones' are cleverly laced between the lines to enliven the imagination and excite the senses.
Danny's father, Arthur S. Periwinkle Blue, or just Mr Blue, creates a multitude of shades of blue in his paint factory in Blue York. So the world they live in is, well, blue. Until one night, Danny has a crazy dream. Unable to explain the colour he saw, Danny sets about to invent the hue that is thus known as 'not blue'. Experimentation after experimentation, finally on Day 99, the bright splash of this kooky colour he created slowly begins to appear on everyday things. 'Discombobulated' at first, the people 'warm up' as the town goes from black and white (and blue) to being painted with hints of… 'Really Excellent Dream'. And then Danny has another dream.
The illustrations are purposely selected to be monochromatic yet uncannily elicit a sense of variation in the shading and mottled texture. The outlined characters look as equally charming and kooky as the nature and light-hearted narrative of the story. It is humorous and absorbing in its ability to delight and evoke a different perception of the bubble we often live in. Obviously in reality our world is not literally a single colour, but allowing our children the freedom to play, create, invent and think divergently redirects them from accepting the singularity of familiarity.
Danny brings a powerful message of welcoming imagination and diversity. With charisma, wit and subtle artfulness, Danny Blue's Really Excellent Dream is a colourful story perfect for showing children from age four that embracing dreams and openmindedness can make the world of difference.
Reviewed by Romi Sharp