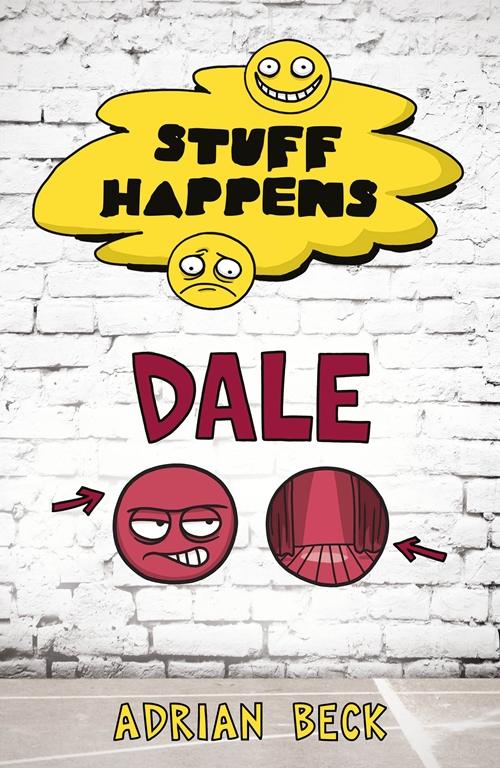 Adrian Beck,  Dale (Stuff Happens),  Penguin Australia,  2 May 2016,  91pp.,  $9.99 (pbk),  ISBN: 9780143308966
Dale is the latest book in the popular Stuff Happens series, and continues the theme of tackling everyday childhood challenges with subtle advice and humour.
The story opens with the final dress rehearsal for the school musical, and despite having only a small role, Dale accidentally finds himself centre stage in a state of undress—much to the amusement of the other kids.  Dale is mortified when Dan, the most popular boy in school, and the star of the show, leads the taunts and adds to Dale's embarrassment by calling him a ranga. Dale decides to seek revenge and comes up with a cunning plan to put the spotlight on Dan on the big night, and not in a good way. At the eleventh hour, Dale has a change of heart and must quickly figure out a way to save the day.
The dialogue is colloquial with typical schoolyard teasing and banter contributing to realistic scenarios. Subtle lessons around accepting differences, revenge, forgiveness and friendship flow through the narrative.  As an added bonus, Dale learns a number of new words with a thespian flavour including chookas, which had him stumped for a while.
Each of the ten chapters closes with a scale of smiley icons and an arrow pointing to the emotion Dale is feeling at that point in the story. This is a potential opportunity for teachers and students to discuss positive and negative feelings. The type is large and well spaced, suited to readers aged 7-11.
Reviewed by Jane O'Connell