Logan Macx, Cyberspies (Swift and Hawk #1), Walker Books, March 2022, 352 pp., RRP $18.99 (pbk), ISBN 9781406394931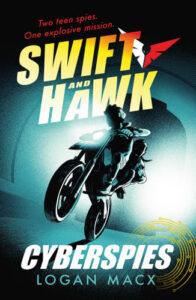 Edward Docx bestselling adult novelist and journalist, joined with highly regarded historical adult author Matthew Plampin, to co-write a teen high-tech thriller under the pseudonym Logan Macx. It is the beginning of a new teen series grounded in high tech, spy adventures, high concept action, in a novel called 'Swift and Hawk Cyberspies.'
Swift and Hawk, real names Caleb Quinn a brilliant coder and Zenobia 'Zen' Rafiq also brilliant but at advanced robotics, attend a school in London for teens gifted in high-end technology. They are forced to act when Caleb's mother, a CIA spy, and Zen's parents, cutting edge scientists and their son are kidnapped. To find them and to stop the hijacking of new nano technology, Caleb and Zen are recruited by the secretive Möbius Programme to crack an unbreakable code. They are plunged into a life-and-death rescue mission, that takes them from hidden tunnels beneath the British Museum, to the treacherous Amsterdam docklands. They enter the dangerous world of spies and saboteurs, that ultimately leads them to the remote island of Spøklestark, and even more danger. They take on the evil powers – "RAZOR" – led by the ominous Xavier Torrent.
Well written, with a lot of cliff-hangers, speed chases, even wolf attacks, near disaster experiences, it will appeal to readers of action-packed adventure. For boys especially, who enjoy fast-pace, plot twists, action, and more action, this is an exciting book. For those who enjoy technology and the potential of developing innovative robotics and programming apps like Terrorform, it invites tech creativity.
It is suitable for 10+ years.
Reviewed by Susanne Gervay