Alice Zaslavsky, Alice's Food A to Z, Walker Books Australia, November 2021, 148 pp., RRP $24.99 (pbk), ISBN 9781760654856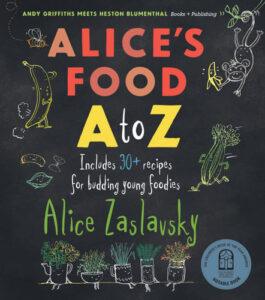 Alice's Food A to Z is a reprint of a 2016 CBCA Notable in the Eve Pownall category (for Information Books). I have not read the original book, however, this reprint has been beautifully repackaged with quirky illustrations and excellent layout.
Written by Alice Zaslavsky a Masterchef contestant, the book provides a fun and interesting look at foods, mostly fruit and vegetables, from A to Z.
For each entry there is a variety of information including fun facts; what to look for; this goes with that; and whys guy, a character who asks why questions related to the food item. The book boasts 30+ recipes with an easy search index at the back. Most of the recipes require adult supervision and/or assistance to be completed successfully.
Alice's Food A to Z is an excellent resource for budding young foodies. It may also be helpful reading for fussy or picky eaters who benefit from repeated exposure to foods before trying them.
Reviewed by Anne Varnes