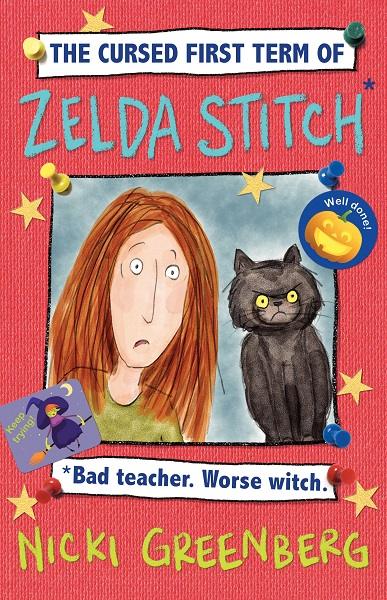 Nicki Greenberg, The Cursed First Term of Zelda Stitch*  *Bad Teacher. Worse Witch, Allen and Unwin, Sept 2017, 272pp.,, $14.99 (pbk),  ISBN: 9781760294908 
'Zelda rides a broomstick!'

'Zelda's got a bat-friend!'

'Zelda smells like toadstools!'

'Witch! Witch! Witch!'

 It was bad enough when I was eleven years old. But if they sniff me out now, it'll be a disaster.
With the cruel school yard taunts still ringing in her ears, Zelda the reluctant undercover witch must summon all her courage and face her first term as a primary school teacher.  Not only does Zelda need to keep her accidental magical urges under wraps, she must learn to be a better teacher, a better friend and a better witch. Not an easy task when faced with a formidable class full of children, including wild-child Zinnia and secretive Phoebe, an almost demonic vice principal, an eight-legged visitor called Jeremy, and the world's most disagreeable pet cat.
Poor Zelda doesn't really fit it at first, neither confident as a witch nor in her new role as a teacher. Like so many of us, she is the victim of her own insecurities, but also has to live up to the seemingly unachievable expectations of her interfering mother and high-flying (literally on a broomstick) witchy pals. As Zelda battles persecution and fights her fears the tender and insightful bond with her children is revealed.
Aimed at mid to upper primary aged children (7-11 years) and written in the style of Zelda's private diary The Cursed First Term of Zelda Stitch is a witty, highly engaging read. The short diary entries, accompanied by Nicki Greenberg's funny sketches and diagrams, really bring the full bodied, colourful characters in this book to life, satisfying the curiosity of any confident or more reluctant child reader by affording them a sneaky glimpse into Zelda's complicated and messy magical life.
With more than a brilliantly comedic nod to the popular phenomenon that is the magical fantasy genre and the ever enduring work of William Shakespeare, talented author/illustrator Nicki Greenberg has created literature's most admirably understated and down-to-earth witch in this wickedly hilarious tale of classroom mishaps and witchy adventures.
Teachers' Tips can be found on the Allen & Unwin website.
Reviewed by Lisa Hoad