Michelle Wilson (text) and Catherine Suvorova (illustrator), Crocs Don't Do Yoga, Larrikin House, June 2021, 32 pp., RRP $24.99 (hbk), ISBN 9781922503237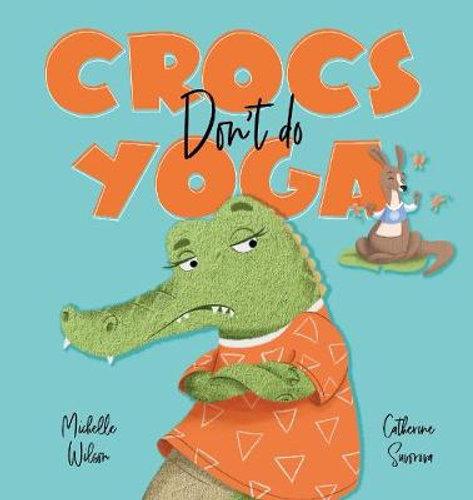 When I was at school I'd never heard of yoga. Now my primary school kids do it quite regularly and have their favourite YouTube channels for it. So it makes sense for the children's book industry to jump on that and provide the market with Yoga-themed books for the primary school audience, which is exactly what Crocs Don't Do Yoga is.
Connie the croc has some stereotypical crocodile traits, she's got a tough exterior, she's competitive and stubborn and is likely to snap at those who disturb her. We can all relate. Fortunately Connie has a billabong neighbour who is willing to help her address her unfriendly behaviour, suggesting that perhaps yoga could be useful. Connie defiantly announces that "Crocs don't do yoga", even though many other animals around the waterhole brag about the benefits. If you're familiar with children's picture books these days, I don't think it's a spoiler to give away that Connie the croc eventually tries yoga and enjoys it thoroughly.
This rhyming book would have a similar audience as picture books by Heath McKenzie. It is colourful and predictable and there is plenty of action taking place in each page. We get to see many different animal characters each striking a yoga pose, which I know will resonate with kids. When we do yoga at home, we're remembering the poses based on animals or nature.
Most suited to kinder or early primary school aged children, Crocs Don't Do Yoga would be a great way to introduce yoga to children in a classroom or home setting.
Reviewed by Cherie Bell